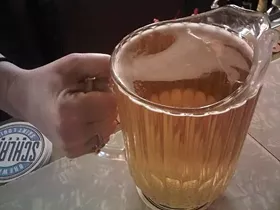 Nicholas Phillips
Miss Sparkle knows how to wield a beer.
In this series, food and drink professionals dish to Gut Check about their pet peeves anonymously -- but honestly.
Gut Check Code Name:
Miss Sparkle
Position:
Barmaid, a neighborhood dive in
Bevo Mill
Pet Peeve #1
Miss Sparkle: "I hate when my customers pick their nose."
Nearby regular: "You didn't catch me."
Miss Sparkle: "Yes I did. You ate it."
Pet Peeve #2
Miss Sparkle: "I hate when drunk customers make a mess then try to clean it up. That usually makes it worse. One guy came in here and did six shots of
Jäger
[meister]. Then he starts puking in his mouth. Then he finally pukes and tries to clean it up by taking his shirt off and sopping it up."
Pet Peeve #3
Miss Sparkle: "I hate when people take smelly-ass shits in the bathroom."
Gut Check: "But how often does that happen?"
Miss Sparkle: "A lot. It already happened tonight!"
Got a pet peeve to share with "Mind Your Fucking Manners"?
E-mail nicholas.phillips at riverfronttimes dot com