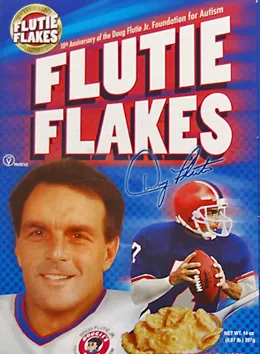 plbsports.com
Remember Flutie Flakes?
Parents are so gullible.
An Australian study published in Public Health Nutrition indicates that half of Australia's parents don't read the nutritional information and were twice as likely to buy junk food for their kids if it's endorsed by a professional athlete.
Because athletes are always the pinnacle of perfect behavior and good eating endorsements.
Yeah, that's right, like these eight dudes!
8. Chunky Soup and Football Great Donovan McNabb Even Mama McNabb endorses Chunky Soup, which has 35 percent of the daily recommended intake of sodium per cup. Not per can. Per cup. It's a lot like taking a salt pill.
7. Coca-Cola and Football Icon Mean Joe Green The classic, heart-warming tale of a surly football player and an unattended child who trades a bottle of sugar water for a sweaty jersey. It's good for the soul.
6. 7-Up and Boxer Sugar Ray Leonard Total Mean Joe Green ripoff, this time with the athlete pouring the sugar water down his young child's gullet. That's how fighters are made. Mmmmm...sugar...!
5. Reggie Bars and Baseball Hall of Famer Reggie Jackson When kids dream of hitting three home runs in a World Series game, you know what they're really dreaming of? Getting their own candy bar that tastes pretty good! 4. Tim Hortons and Hockey Dude Sidney Crosby It's not just athletes from the U.S. of A. who like their junk. Up north of the border, Tim Horton's chain of coffee-and-doughnut huts runs a program to keep the nation stocked with hockey-playing doughnut lovers by sponsoring youth hockey leagues. The company's original owner and namesake was a hockey star, and now new hockey stars borne of his doughnut-sponsored league endorse his products. It's the junk food circle of life!
3. Burger King and NASCAR Driver Tony Stewart Is auto racing really a sport? Argue all you want, but its stars do love to shill. How many Whoppers does one have to eat before one can no longer climb through a stock car's window?
2. McDonald's and Eccentric Basketball Legend Charles Barkley We're not convinced this is really Charles Barkley. In 1996 Charles Barkley would have slammed a little punk for mocking him.
1. Taco Bell and Hoops Hulk Shaquille O'Neal Of course Shaq eats a Four Alarm Double Decker Taco before hitting the court. And of course he has never shit himself. (Or is that why basketball players started wearing those long, baggy shorts?)
P.S.: As for Flutie Flakes, well, NFL quarterback Doug Flutie's namesake breakfast cereal was loaded with sugar, but the product benefited a charity, so he gets a -- wait for it -- pass.