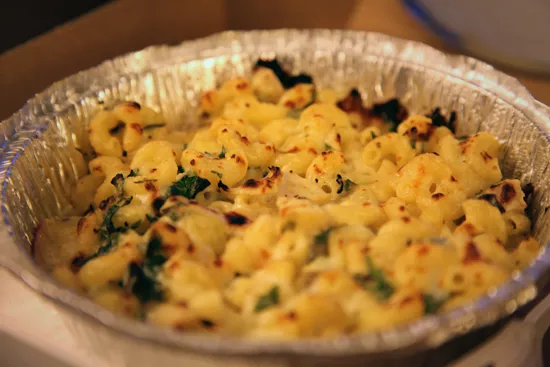 Katie Moulton
"Limited Edition Spinach Artichoke Mac & Cheese": Not for chips or children.
Could this be the year that Oscar gets a Woody Woody gets an Oscar?
Though three animated films -- Beauty and the Beast, Up and this year's Toy Story 3 -- have been nominated for the Academy Award for Best Picture, none has yet nabbed the top trophy. These snubs might be based on the bias that animation's ascension has less to do with Pixar's mastery of the art form than the modern public's nostalgia for middling artifacts of childhood, like fairy tales and stuffed animals.
So as Oscar night looms, Dinner and a Movie asks: Are childhood staples -- like, say, cartoons and mac & cheese -- just for kids?
After a viewing of the 2011 Oscar-nominated animated shorts at the Tivoli and dinner at Cheese-ology, the emphatic answer is...
Nuh-uh!
The screening of the five animated shorts at the Tivoli Theatre (6350 Delmar Boulevard, University City; 314-995-6270) begins with Madagascar, un carnet de voyage.
Not to be confused with the similarly titled 2005 DreamWorks feature, this Madagascar is an ethereal travel journal presented as a "scrapbook" of illustration and animation techniques. What the eleven-minute film lacks in narrative arc, it makes up for in swirling water-color impressions of the Famadihana, the "turning of the bones" ceremony. Though they offer a Western perspective on a specific culture, the filmmakers don't seem interested in education, but rather the felt experience of new places and people.
Let's Pollute is intended as a parody of midcentury science-education films, but it lacks subtlety and comes off as a really cranky Schoolhouse Rock.
via oscar.go.com
The Gruffalo
Though executed in 3-D computer animation, The Gruffalo unfolds in a lovely, storybook-traditional style that remains faithful to both author Julia Donaldson's text and Axel Scheffler's original illustrations. The character development of talking-animal types is as straightforward as the narration's rhyme scheme.
via oscar.go.com
The Lost Thing
The Lost Thing, an Australian/UK production voiced by ginger-haired comedian Tim Minchin, sports a steampunk aesthetic and a wistful storyline that bemoans sterilized adulthood's loss of...something.
via oscar.go.com
Day & Night
Probably the most successful nominee comes from golden child Pixar: the deceptively simple Day & Night. This short employs 3-D animation within the featureless, traditionally animated 2-D title characters and a wordless narrative trajectory -- punctuated only by snippets of a speech by Dr. Wayne Dyer -- to discuss prejudices against unknown perspectives.
Katie Moulton
Bacon, Bacon with Breadcrumbs: This mac & cheese doesn't fuck around.
After 90 minutes of bite-size films with big ideas, we turn our attention to Cheese-ology Macaroni and Cheese (6602 Delmar Boulevard, University City; 314-863-6365) and two regular-size orders of big-kid macaroni and cheese.
The allure of "Limited Edition Spinach Artichoke" mac & cheese immediately proves irresistible. The dish is light with full and varied flavors, chock-full of spinach and artichoke chunks. The pasta is nicely browned on top, and it tastes like a complete meal, not a mere dip.
Digging into the breadcrumb-covered "Bacon, Bacon" mac & cheese, on the other hand, unearthed a treasure trove of smoky bacon smothered in gooey mozzarella.
We grow up on Saturday-morning cartoons and goopy Kraft macaroni and cheese. But with wit and economy, artists and chefs alike elevate classic forms of story-telling and belly-filling to new levels of sophistication.
As adults, the best we can do is to stay hungry.