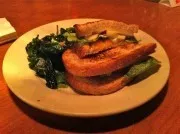 Sometimes only comfort food at a cozy south-city bar will do. But if you're among those who eschew consuming dead animals, burgers or super-hip ironic throwback meatloaf are not gonna cut it.
But it's cool. The
Bleeding Deacon
(4123 Chippewa Street, 314-772-1813)
has your back! The pub's LP cover-bound menu contains an entire section devoted to vegetarian victuals, many of which can be made vegan-friendly if you like.
Nothing says "blissed-out elastic waistband time" like a good grilled-cheese sammich -- or, hell, even a mediocre one. The Deacon's take on this classic, the "Plowman's Grilled Cheese," is worth writing home about.
It's made with smoked mozzarella, which all by itself would elevate this preparation above the starvation-stopping Velveeta slab you might apply at home. Add in apples and honey, and the sandwich becomes complex. Sweet! Smoky! Crisp! Planty!
The metaphorical cherry on top of this grilled-cheese masterpiece was to have been French fries on the side. The Deacon's seasoned fries are just right -- skinny and crisp and salty and savory. But on this night, the kitchen was all sold out. The horror!
In the absence of French fries, flash-fried spinach might be viewed as a misguided attempt to offset the dietary implications of all that gorgeous cheese. As it happens, however, given sufficient ingenuity, a mortal human can transform a bona-fide superfood into a salty, greasy heap o' delicious. This stuff's so good it might be worth ordering even when the Deacon's alI stocked up with fries.
Maybe.