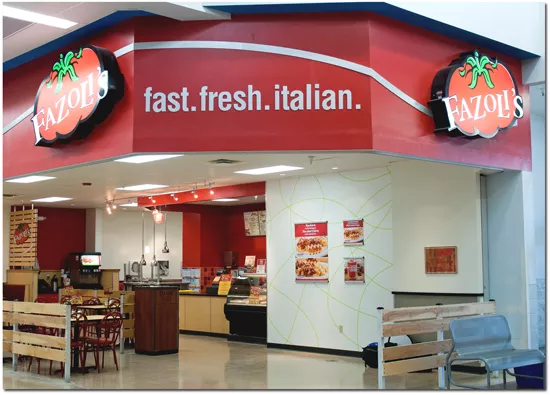 courtesy Fazoli's
Fazoli's and Walmart go together like cheap wine and cigarettes.
If you had to name one corporation and one person out for world domination right now, it'd be a no-brainer: Walmart and Natalie Portman. And now, with an assist from the fast-casual Fazoli's chain, Walmart is stepping up its game. Last week, with much flack-stoked fanfare, Fazoli's cut the ribbon on the Nation's First Fazoli's Inside a Walmart. It is, in fact, the nation's first Fazoli's Inside Anything Other Than Fazoli's, as the Kentucky-based chain branches for the first time into the realm of what's known in the trade as "non-traditional units."
In our very own south county, no less!
Such a confluence of events practically cries out for an installment of "Dinner and a Movie." And what better movie than Where the Heart Is, in which Portman's character lives -- and gives birth! -- in a Walmart, after her deadbeat baby daddy abandons her.
The staff at Walmart's first Fazoli's (3270 Telegraph Road, Mehlville; 314-845-1744) is composed chiefly of friendly and chipper teenage girls. One such specimen greeted us and promptly presented us with a crucial choice: "Will this be dine-in or carry-out?"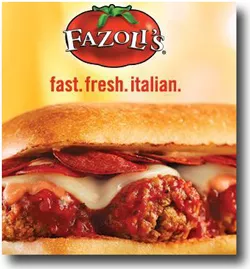 "Will this be dine in or carry out?"
Those who are familiar with the Fazoli's modus operandi know that dining in brings a substantial fringe benefit, in the form of an all-you-can-eat supply of the restaurant's signature breadsticks.
Two pizzas gazed up at us from beneath their respective hot lights and that ubiquitous piece of clear plastic known as a sneeze guard. One pizza, cheese. The other, pepperoni. If there's any benefit to this display, it's that you see how big the slices are and are reassured that one slice of cheese pizza will pair nicely enough with an endless supply of breadsticks.
That said, you might not want to hang around long enough to gorge on breadsticks. (Breadsticks being what they are -- baked spears of bleached, non-nutritive starch.) Because to "dine in" at a Walmart feels, well, strange. Whatever else Walmart might represent on a global cultural and socioeconomic level, it's not a place where one feels inspired to linger. It's pretty much "get your stuff and get the hell out." Endless breadsticks notwithstanding, a visit to Walmart more appropriately involves dining in one's car. In the parking lot.
Before Natalie Portman disturbed the hell out of the moviegoing public in Black Swan -- and before she starred in every film of 2011-- she made mediocre romantic dramadies. She possessed charm and showed signs of maturing as an actress, but she wasn't nearly there yet.
Directed by Matt Williams, Where the Heart Is was released in 2000. It's based on a best-selling novel by Billie Letts about a seventeen-year-old girl who gets knocked up and then is abandoned by her boyfriend at a Walmart in Oklahoma while en route to California. Adrift and broke, Novalee Nation (Portman) lives in the Walmart for six weeks until her daughter is born (also inside the Walmart).
Stop right there. How does a person manage to live unnoticed in a Walmart for six weeks? Don't they mop up the place after hours? (This was long ago, remember, in a time before 24-hour Walmart Supercenters.)
Having popped out her offspring, Novalee relies on the kindness of strangers to help her move out of Walmart and restart her life. This supporting cast includes her delivery nurse Lexie (Ashley Judd -- what ever happened to her, anyway?), a woman named Sister Husband (confused much?) who mistakes Novalee for someone else and Forney (seriously, what's with these characters' names?), the eccentric librarian who pines after Novalee (played by James Frain).
The music that leads up to the Big Love Scene is obtrusive; cue Jennifer Day's "Completely" blaring just before the kiss. Then fade in to the lovebirds holding hands in bed. Welp, that was quick!
Critical opinion was divided on Where the Heart Is when it arrived ten years ago. The aggregators at rottentomatoes.com reveal that while most reviewers who weighed in liked the movie, as a rule, the more respected the critic, the stinkier was his or her take.
It might not be that big a leap to posit that if you the idea of going to Walmart to "dine in" at a Fazoli's appeals to you, you'll love Where the Heart Is.