This is part two of Holly Fann's Chef's Choice profile of Chris Bork of the Mud House in south St. Louis. Part one can be found here. Part three, a recipe from Bork, is here.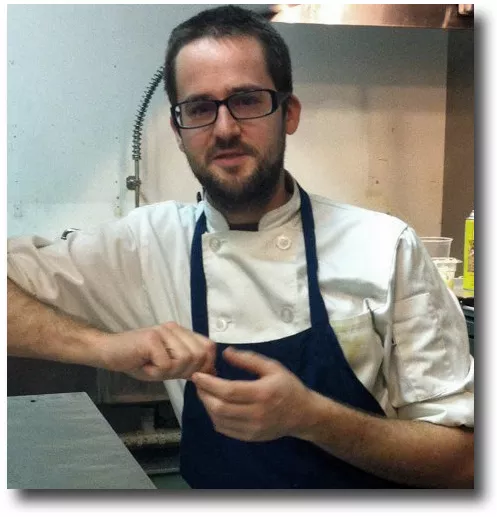 Holly Fann
Chris Bork, chef at the Mud House (2101 Cherokee Street; 314-776-6599)
Did your family cook when you were a child? Yes. My mom was a stay-at-home mom for most of my youth. She cooked every night. It was spaghetti and meatballs, meatloaf, pork chops with apple sauce. Nothing crazy with vegetables, but they were always fresh.
Both my parents are from New Orleans, so sometimes we would have gumbo and red beans and rice. You always had to eat what was on the table. Nowadays you see a lot of "my child wants this," but that wasn't the way it was when I was a kid. I think that helps as an adult -- helps you from being a picky eater.
How old were you when you started cooking? Professionally, seventeen. But when I was a kid, I helped out making things like ice cream, cinnamon rolls. I remember being interested but really more because I wanted to use my hands and help out. The process didn't really matter to me.
First cooking job? I cooked at Fricks, which is now closed. They really fell victim to the smoking ban. That place was smoky. Really smoky.
Did you go to culinary school or college? I attended Westminster Kingsway College in London.
What do you eat? When I'm at work, I nibble all day long. It would be strange to make a meal there and sit down and eat it. Everyone says things like, "You must eat the most amazing things at work," but it doesn't really work out that way. I like to go out a lot on my days off.
We'd be most surprised that you eat... Lamb brains, maybe? I was just in LA, and I had some things I had never had before. I'd never had monkfish liver before, and that was amazing.
What do you cook at home? I'm a sandwich guy at home. If I'm cooking at home, it's not for me; it's for my girlfriend. I don't sit at home and make myself a feast. Part of the pleasure of cooking is for other people. I love making quick things like pasta.
What are your three favorite restaurants in St. Louis (besides your own)? Five Bistro, the Good Pie, Mi Tierra [on the east side].
A local chef who most impresses you? Josh Galliano, because I'm very jealous of his talent. I think he's the most talented chef in St. Louis. I admire Anthony Devoti from Five. Anthony is a total food nerd, and his work ethic is amazing and his enthusiasm is just awesome.
Holly Fann
Chris Bork showing off a loaf of Alex Carlson (of Five Bistro)'s supremely good bread.
Your favorite restaurant elsewhere? I'm going to base this off of recent experience. Animal in Los Angeles. I've never been to a place where they're, like, "We're chefs, we're going to do what the fuck we want to and you're going to eat it." They're really cooking for other chefs.
It's amazing. I mean, we walked in there and it was packed. It wasn't just young people; it was all kinds of people and they're playing Notorious B.I.G. and they're playing it loud. There are no substitutions to their menu. They're like: We work hard at what we do, and we will not change it. You can come here and support us, and if you do, this is how it is. It inspired me a lot.
Your favorite food city? New York. LA right behind it.
Favorite recent food find? Ham fat. I'm getting whole hams from Greenwood Farms. They are the real deal. I trim off some of the fat from them and render it. It's like liquid gold when it's rendered and strained. I used it with truffle oil to flavor the poached egg I did for the last Chef Night. You don't have to fry anything in it; you can just add it as a flavoring agent. I'm kind of going crazy on ham fat right now.
Most essential ingredient in your kitchen? Isn't that obvious? Salt.
Favorite local food find, and where do you get it? It depends on the time of year. I mean, there's a lady who lives down the street who grows heirloom okra, and she'll bring a bus tub of it down and want to trade for it. I'd have to say, recently though, it's the bread from Alex Carlson of Five.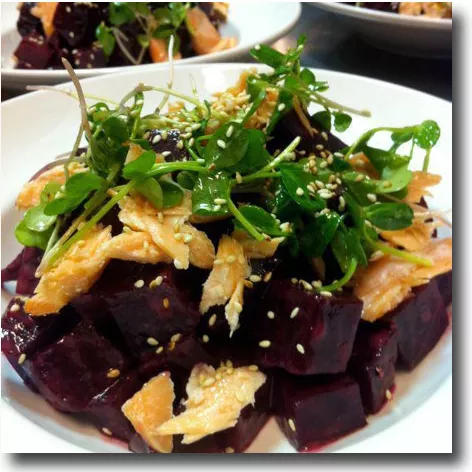 Holly Fann
Bork's roasted beets with smoked salmon, pea shoots and sesame seeds.
Four words that describe your food. Comfortable, tasty, seasonal, local.
One food you dislike. Winter tomatoes. Crunchy, bland, mealy tomatoes.
A food you cant live without. Cured meats. Cured meats, or shrimp cocktail.
St. Louis needs more... Adventurous diners. People need to be bold enough to try new things. If a chef has fresh sardines on their menu and you've never had a fresh sardine, try it.
Best tip for home cooks. Read cookbooks and magazines. If you get a chance to meet a chef, most of them are happy to talk to you and you can pick their brain.
Favorite after-work hangout. I like Hard Times, on 18th and Olive. The nicest people.
Favorite kitchen tool. My hands. I love my knife, but I love working with my hands.
What's next for you? There's so much going on here. There's people working on installing our new hoods in the kitchen. We have new tabletops made from old bowling lanes. Dinner is the next step. I'm pretty excited about it.
What inspires you? Spring. Spring inspires me a lot.
Chefs who inspire you... I only have one Mario Batali cookbook, but for one guy to know everything about Italian food, that's inspiring to see. Also my old sous chef [in London], Adrian Marsh. Marco Pierre White. I mean that guy's work ethic -- he did nothing else.
Favorite cookbooks? On the Line, by Eric Ripert. It's basically a biography of Le Bernardin and how that place is successful and how they work. It's neat to see what it takes to make a restaurant of that caliber work.
Proudest professional moment? When I had come back from London after almost three years straight, I came back having learned so much and I was such a different person. That first meal I cooked for my family -- it was awesome to execute what I had learned for the people I love. That was really cool.
Holly Fann
Chris Bork's prime rib with roasted fingerling potatoes.
Favorite music to have in the kitchen? We mix it up a lot, but a lot of White Stripes. At night a lot of hip-hop, and a lot of '70s funk.
What's on your pizza? I'll let the guys at the Good Pie decide that. Last time I was there I had pancetta with a farm egg on top.
What's in your omelet? Eggs.
What are you drinking? Rum.
What's the most surprising food you've eaten? Any food you've never had before or are having for the first time is surprising.
What's the most difficult lesson you've learned in this business? You can't do it by yourself.
When did you know the chef's life was for you? My first job in London, I started doing vegetable garnish. When I started I sucked at it. One night I was really getting beaten down and getting yelled at and and I thought by the end of the night my name was the "C" word and I decided then and there, I was going to do it. I picked up extra shifts and I worked hard and not long after that I got moved to hot starters and not long after that I got the title chef de partie.