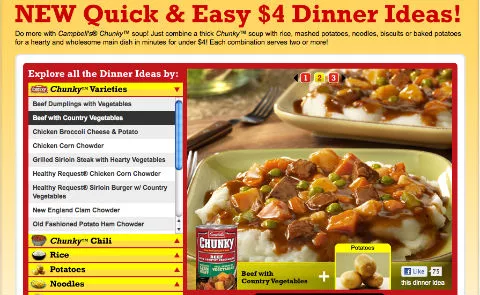 What the hell, Chunky Soup? Is anyone falling for your ad campaign pushing people to make quick, "complete" dinners by dumping a can of soup over a plate of mashed potatoes/noodles/rice/biscuits? It's all so very Throwback.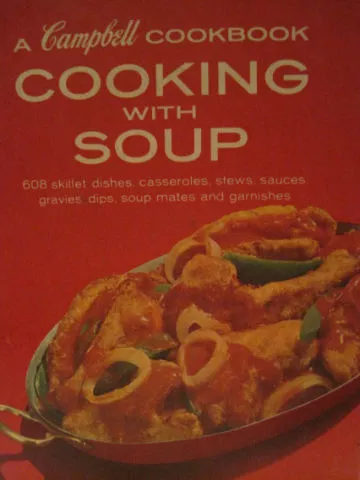 Robin Wheeler
Oh shit. It's back.
Just how much of a throwback is it? So much that it prompted us to dust off some shitty old cookbooks lurking in the bowels of Gut Check International Headquarters, including a 1976 edition of "A Campbell Cookbook: Cooking with Soup". Last time we saw this tome, we wound up making a soup from three canned soups that had an expedited trip down the toilet.
Surely the new Chunky "recipes" can't be that bad. Right?
The Old Chunky Twenty-seven pages into the old cookbook, we found a recipe similar to the starch n' dumps on the Chunky Soup website, only a bit more complicated. For Chunky Beef n" Noodle Casserole, saute 1/4 cup chopped onion and two ounces of canned mushrooms in two tablespoons of butter. Add a 19-ounce can of Chunky beef soup. We used beef with country vegetables, but forget about finding a 19-ounce can. For all the panic about increasing portion sizes, Chunky has reduced their cans to 18.8 ounces.
Living in the future's such a rip-off.
Also add 1/4 cup sour cream, 1 cup of cooked noodles, and two teaspoons of paprika. Heat and stir until warmed through.
Using leftover noodles, the dish took 10 minutes from can to plate. The tiny bit of sour cream forces its way to being the predominant flavor. It's mush and tang, without much beefiness. Probably because we were shorted a fifth of an ounce. The New Chunky We're far too busy and important in 2011 to bother with sauteing canned mushrooms until they bounce. The new recipe has no extra steps. Make mashed potatoes; the recipe doesn't specify, but they're instant. Who can be bothered with all that boiling? We barely had time to boil the water for the instant potatoes, opting for a rapid-boil electric kettle while the can of Chunky beef with country vegetables soup heated. Put potatoes on a plate. Dump soup on the potatoes. Done in four minutes, forty seconds.
It's pretty easy to imagine what fake potatoes drenched in canned soup taste like. Frankly, we've got a spare five minutes and twenty seconds we didn't anticipate and we've got things to do. It tastes fake, but somehow more complex than the more difficult dish. Probably because it had a beefier flavor, since the recipe was created with the new, shrunken can in mind.
The Verdict Both taste like prison food, but the new recipe is slightly less horrible. It doesn't try to be anything it's not - instant potatoes, covered with soup. Hell, at least it's honest.