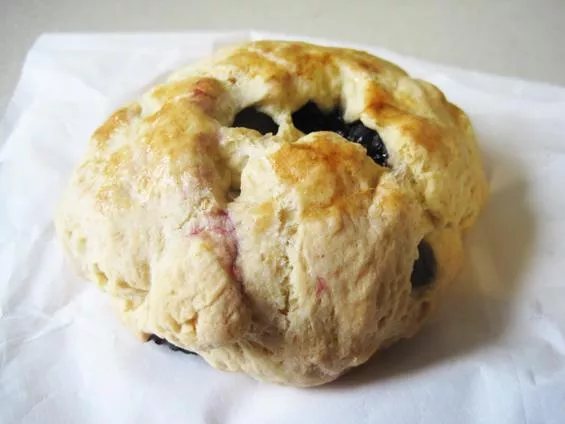 Ian Froeb
A blueberry scone from La Dolce Via
How do you know that you're in the hands of a master baker? When the only sweetness that you can taste in your blueberry scone is the natural sugar of the fruit itself, and it is exactly enough.
La Dolce Via hasn't always had an easy go of it. The Forest Park Southeast bakery and café had a close encounter with closing a couple of years ago, and owner and baker Marcia Sindel has battled health problems.
One taste of the blueberry scone -- or, really, any of the baked goods -- reminds you why this is a place worth not only preserving, but also celebrating. The dough seems suspended in this perfect state, not quite flaky like a croissant, certainly not brick-hard like so many commercial "scones," and it yields easily to the sweet, plump fruit within.
La Dolce Via
4470 Arco Avenue
314-534-1699
$3.50
I'm counting down -- in no particular order -- 100 of my favorite dishes in St. Louis. Some are well-known, others obscure. Some are expensive, others dirt cheap. All of them, I guarantee, are delicious. Please do not hesitate to share your own favorites via the comments thread.
Previously:
#23: Gang kua ped yang at Addie's Thai House
#24: Bánh xèo at Banh Mi So #1 - Saigon Gourmet
#25: Mojarra dorada at Garduño's Mexican Food
#26: "It" at Mammer Jammer
#27: Two eggs over-easy, bacon and hash browns at the Courtesy Diner
#28: Seafood at Farmhaus
#29: The "Edgar Allan Poe" at Dewey's Pizza
#30: The "Heart Stopping BLT" and a chocolate malt at Crown Candy Kitchen
#31: Smoked half-chicken at PM BBQ
#32: The smoked chicken pizza at Onesto Pizza & Trattoria
#33: The baby-back ribs (or the burger) at the Piccadilly at Manhattan
#34: Albóndigas caseras con patatas at the Guido's Pizzeria & Tapas
#35: The "Sweet Burger" at SweetArt
#36: Buffalo fries at Blueberry Hill
#37: Tom yum gai at Pearl Café
#38: Cassoulet (and Sweetbreads) at Franco
#39: The "Papasan Roll" at Miso on Meramec
#40: Lasagna at Mama Josephine's
Previously (Continued):
#41: The "Bucktown" Pizza at Pi Pizzeria
#42: Pla song kruang at Basil Spice Thai Cuisine
#43: Chori pollo at Mi Ranchito
#44: Pizza at La Pizza
#45: Fried chicken at Young's Restaurant & Ice Creamery
#46: The Philly Cheesesteak at 9th Street Deli
#47: Smoked chicken wings at Flavors BBQ Sports Bar & Grill
#48: Coffee and a pastry at 222 Artisan Bakery
#49: The torta ahogada at Taqueria Durango
#50: The "Morganford Mediterranean" Sandwich at Local Harvest Café & Catering
#51: Vegetable korma at Gokul Snacks & Sweets
#52: Schnitzel & spaetzle at Iron Barley
#53: Oxtail stew at De Palm Tree
#54: Pho at Pho Long
#55: Gyro at Anthonino's Taverna
#56: The Lemon Drop Cupcake at the Cup
#57: Pupusas at Tres Banderas
#58: Gumbo at the Gumbo Shop
#59: The burger at Newstead Tower Public House
#60: Quesadillas tradicionales at Milagro Modern Mexican
#61: "7th Street Sicilian" Po' Boy at Blues City Deli
#62: Tamales at Taqueria la Pasadita
#63: Ćevapi at Bosna Gold
#64: Lemon meringue and pine nut torte at BitterSweet Bakery
#65: Chile Morita con Puerco at Señor Pique
#66: Soda chanh duong (sparkling lemonade) at Lemon Grass
#67: Nachos grande at Nachomama's
#68: Pizza with pepperoni, sausage and mushroom at Pizza-a-Go-Go
#69: Bill's "Burger Meister Burger" at Cardwell's at the Plaza
#70: Sake (salmon) nigiri sushi at Nobu's Japanese Restaurant
#71: Massaman curry at Simply Thai
#72: The lunch buffet at Mayuri
#73: Fried chicken (spicy) at Porter's Fried Chicken
#74: Arancini at Lorenzo's Trattoria
#75: Meat shawarma at The Vine Mediterranean Café & Market
#76: The South Side Smoke at sandwich at Stellina Pasta Café
#77: Falafel at Kabob House
#78: A slice with pepperoni at Feraro's Jersey-Style Pizza
#79: Birria at Pueblo Nuevo
#80: Banh mi dac biet at Phuc Loi
#81: Prosciutto bianca pizza at the Good Pie
#82: Gold Coast Chocolate ice cream at Serendipity Homemade Ice Cream
#83: Hot salami (salam de testa) at Gioia's Deli
#84: Veal parmesan sandwich at Biggie's
#85: Nachos (with jalapeños and extra cheese cup) at Busch Stadium
#86: Lobster bisque at Café Ventana
#87: Calamari fritti at Mangia Italiano
#88: Brisket sandwich at Winslow's Home
#89: Paletas at La Vallesana 2
#90: Spaghetti and meatballs at Sugo's Spaghetteria
#91: The Michael burger at Michael's Bar & Grill
#92: Fried egg and ham toastie at the Schlafly Tap Room
#93: Bavarian chips with Welsh rarebit at Dressel's
#94: Onion soup at Brasserie by Niche
#95: Baby-back ribs at 17th Street Bar & Grill
#96: Kingshighway burger at the Royale
#97: Gyro sandwich at South Grand Gyro Express
#98: Carne asada tacos at El Paisano (Watson Road)
#99: Pretzel bites at Joey B's on the Hill
#100: Hot and sour soup at Shu Feng Restaurant