According to the Internets, the week of February 21 is American Wine Appreciation Week, so christened in 1993 by our nation's 42nd president, William Jefferson Clinton.
The celebration kicked off this past Friday with a pre-party (as it were) known as National Drink Wine Day and culminates this coming Saturday with the traditional (since 2000) Open That Bottle Night, when oenophiles nationwide join corkscrews to liberate their dustiest vintages.
Gut Check, who can hold our vino with the best of them, would like to take this occasion to light a little wine candle for those bottlings that are consumed every day by thousands -- nay, hundreds of thousands -- of Americans but go unappreciated simply because they cost $2 and taste like someone pissed in a tin can of clams.
Having consulted our most trusted sources -- www.bumwine.com, www.ghettowine.com, Dirt Cheap (fun fun!) and Fred's Cheapo Depot, not to mention our own, ahem, cellar -- we're ready to unveil Gut Check's 5 Foulest Wines on the Planet.
Yes, these are the dregs of vinification, but they're also the utility players, the fermented-grape equivalents to Aaron Miles, David Eckstein, Skip Schumaker and, God bless him, José Oquendo, that do their job every day without fanfare or recognition.
You know, the shit that gets you drunk...
5. Ripple "Ain't no party with no Ripple!" A fortified wine with a comparatively low alcohol content of 11 percent, Ripple was produced by E.&J. Gallo Winery, the largest exporter of California wines and the company responsible for Carlo Rossi, Boone's Farm and Barefoot wines. Though not produced today, Ripple enjoyed popularity in the '70s -- in no small part because the brand was often spotlighted with affection on Sanford and Son.
4. MD 20/20 The "MD" stands for this wine's producer, Mogen David, but this all-star is known throughout the low-end-wine-drinking world as "Mad Dog." As frisky fortified beverage, MD 20/20 comes in a rainbow of fruity flavors. In olden times (which is to say, when Gut Check was in short pants and stealing sips from Daddy's liquor cabinet -- which, for the record, did not contain any Mogen David products, Daddy being more of a vodka man), Mad Dog was available in variations that ranged up to 18 percent ABV, but none that we've been able to find on local shelves tops 13 percent.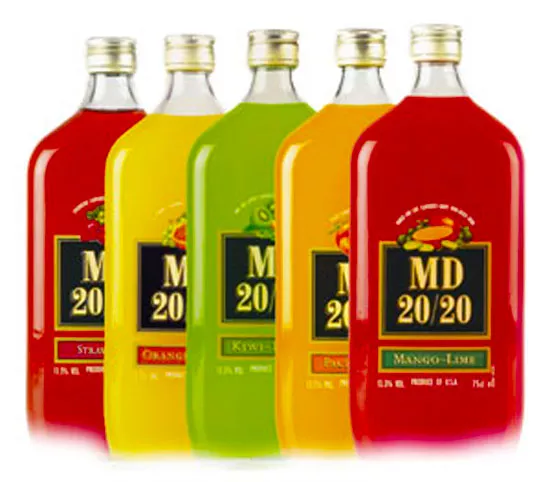 www.ghettowine.com
MD 20/20: In hindsight, it may not have been the best choice.
3. Night Train Express Another bottling from the twin titans E.&J. Gallo -- though its label no longer bears the Gallo logo nor any other indication of its true source. Why the disguise? For years civic leaders blamed Night Train Express and its 17.5 percent ABV for vagrancy and public drunkenness. If Guns N' Roses writes a song in tribute, you know you're dealing with a wine that has a bad reputation. (It was a close call between the Night Train and its fellow Gallo legend, Thunderbird. We flipped a coin.)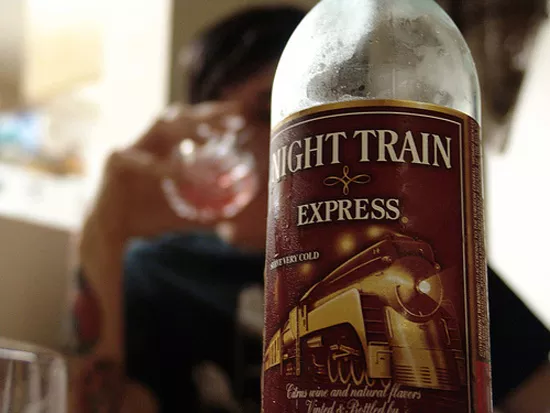 Ride the rails...straight into the gutter.
2. Arbor Mist As much as Gut Check yearns to fill this spot with Dirt Cheap's "30 Dime Wine," that stuff proved too palatable. (Think Two-Buck Chuck.) New York-based Arbor Mist is all about flavor -- whether you prefer the Mixed Berry Pinot Noir or the Island Fruits Pinot Grigio. These babies aren't high in alcohol content, but Arbor Mist offers twelve juicy flavors -- plus two sparkling variations -- to sample while watching The Real Housewives of Beverly Hills marathon. (Be honest, could you get through a PTA meeting stone-cold sober?)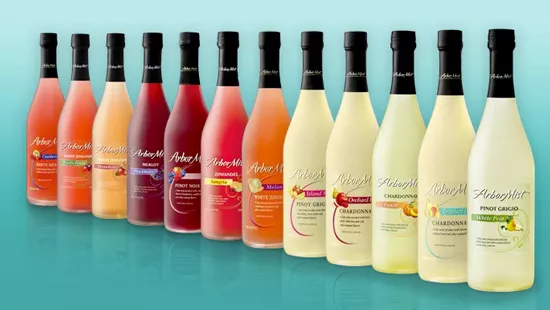 Arbor Mist: "See, kids? Mommy drinks her fruit juice!"
1. ChocoVine Never heard of this dessert wine? Neither had we, until the gracious ladies of Dirt Cheap recommended it. According to ChocoVine's website, this unholy marriage consists of a "fine French Cabernet subtly combined with a rich dark chocolate from Holland." Gut Check's take? It tastes like a milkshake blended in battery acid.
Katie Moulton
ChocoVine: Rhymes with "Frankenstein" -- and for a reason.