Gut Check's Week in Tweets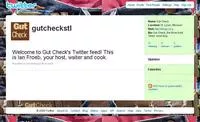 Don't you know? Gut Check has a Twitter account. You can follow us
@gutcheckstl
.

Here's some of what you missed on the Twitter feed this week:
RT @: 7 Best Beer Cities in America? Here are my picks at @ @:

How to Handle a Negative Yelp Review -

Gone in 38 Seconds: Missouri Grocery Bagger Places 10th at National Championship

Exciting day at Gut Check International HQ: Review copy of The Flying Pink Pig, the food truck porno, has arrived!

b.r. myers gives food snobs something to chew on in : - and chew they do!