Gut Check's Week in Tweets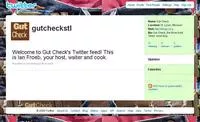 Don't you know? Gut Check has a Twitter account. You can follow us
@gutcheckstl
.

Here's some of what you missed on the Twitter feed this week:
RT @: 7 Best Beer Cities in America? Here are my picks at @ @:

How to Handle a Negative Yelp Review -

Gone in 38 Seconds: Missouri Grocery Bagger Places 10th at National Championship

Exciting day at Gut Check International HQ: Review copy of The Flying Pink Pig, the food truck porno, has arrived!

b.r. myers gives food snobs something to chew on in : - and chew they do!

Support Local Journalism.
Join the Riverfront Times Press Club

Local journalism is information. Information is power. And we believe everyone deserves access to accurate independent coverage of their community and state. Our readers helped us continue this coverage in 2020, and we are so grateful for the support.

Help us keep this coverage going in 2021. Whether it's a one-time acknowledgement of this article or an ongoing membership pledge, your support goes to local-based reporting from our small but mighty team.

Join the Riverfront Times Club for as little as $5 a month.