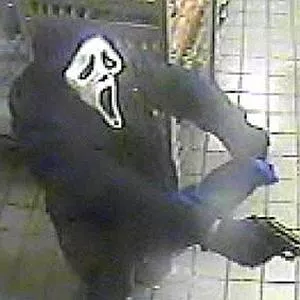 New York Post
"Hand over the bearclaws or I'll make another crappy sequel!"
This week researchers at Bristol University released a study claiming that kids who consume junk food before age three are more likely to have lower IQs in the future. While nutritional research should always be taken with, ahem, a grain of salt, there's plenty of circumstantial evidence to support this theory. Just take a look at some of the really stupid crimes committed for, with, or in close proximity to junk food.
10. One Whopper, Hold the Penis Colorado perv Richard Troupe probably thought he was really clever when he pulled into a Burger King drive-thru last month, sans pants, and requested that an employee hold his whopper. Because no one's ever been smart enough to equate the Whopper with penis size. In November he was banned from a nearby restaurant for slapping a server on the ass.
9. A Nigerian Prince Probably has Free Doritos, Too. Do people respond to random coupons that mysteriously arrive via email? Apparently so. Last June Frito-Lay got slammed with angry phone calls from customers who tried to buy Doritos with fake email coupons. Enough stores fell for the fakes to cost the company several million dollars. No one knows who created the fake coupons or why. Probably someone who really likes free Doritos.
8. Guns and Utz's A pair of siblings was charged with illegally selling guns from their Utz's potato chip booth at Baltimore's Lexington Market. The feds busted Michael and Stella Tsourakis in April, 2009, for gun-dealing when they were supposed to be selling crispy treats after a two-year investigation. Stella protested. A lot. Especially after they were evicted from the market. Stella started a petition to get their booth reinstated, claiming the ATF didn't really find guns in the booth. Five months later, her brother - an ex-bounty hunter - pleaded guilty to the charges.
7. Crullers and a Bath for Ghostface Happy early Halloween! Last October a man tried to rob a Long Island Dunkin' Donuts while disguised as Ghostface, the villain from the Scream movie franchise. Employees laughed at him, soaked him with the dishwasher hose, and made him run away.
6, Don't You Know Where Cops Hang Out? Knoxville, Tennessee, has experienced a glut of pastry-based crime recently. Over $1000 worth of baked goods were stolen from a bakery, and a doughnut shop was robbed at gunpoint (but not by Ghostface). Columnist Sam Venable points out the error of the criminals' way: "Do the bad guys not realize the sheer stupidity of committing a crime anywhere near a bakery or doughnut shop? Holy hotcakes! Why not just pull up to the front door of the cop shop and announce through a megaphone, 'I'm here to break the law! Come get me, coppers!'"
5. Do the Dew for Dough Because bank robbery doesn't provide enough of an adrenaline rush, let's get caffeinated, too! After Hector G. Rodriguez and Taevoncq L. Jones held up a Brunswick, New York, bank last April, they got thirsty. Running from the cops will do that to a robber. Fifteen minutes later, they parked their getaway car at a convenience store and were apprehended after buying Mountain Dew and some smokes. Authorities recovered most of the money. 4. War of the Cheetos James Earl Taylor and Mary S. Childers of Shelbyville, Tennessee, were having a lover's quarrel in June, 2009, that deteriorated from heated words to assaulting one another with Cheetos. They were arrested and charged with domestic assault.
3. Dog Fight In case they're out of Cheetos, a couple can fight with a corn dog. Last October Tommie Lee Mckeliver of Fort Pierce, Florida, was charged with throwing a mustard-covered corn dog at his girlfriend. He told the cops that he "got mad at her and threw a paper plate that contained a mustard covered State Fair corn dog on it," hitting her in the chest and leaving her dripping with mustard.
2. A Burrito Supreme Strike Last July a Walmart employee in Sonora, California, called the cops to report a woman acting strange outside a nearby Taco Bell. Since when is that unusual? Regardless, the police came to the scene and while talking with strange-acting Destiny McMullen, she got mad and "threw her Burrito Supreme at him, striking him in the chest." No word on if she considered suing Taco Bell for not putting enough beef in the burrito to cause more damage.
1. Want Some Fries with That Machete? A month earlier in Tulsa, Oklahoma, Brian Hall grabbed his machete and visited his local all-night Whataburger to demand money. He was appeased with a $1.78 order of fries. "We don't have robberies of french fries very often. The whole thing was very rare," said the arresting officer. "Obviously this was not a well-though-out adventure of Mr. Hall."