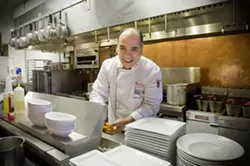 Jennifer Silverberg
Mango Peruvian Cuisine owner Jorge Calvo inside the downtown restaurant
Mango Peruvian Cuisine
announced this morning that it will close
its original location
at 7307 Watson Road in Shrewsbury and transfer the staff there to its location at 1101 Lucas Avenue in the loft district.
The Shrewsbury location will remain open until the end of the month from 4-9 p.m. Tuesday through Thursday and 4-10 p.m. Friday and Saturday.
The downtown location opened in September of 2009, and
I reviewed that edition of Mango
in December of that year.