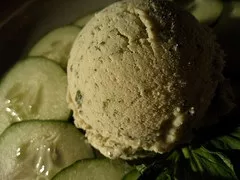 Frostbite
Cool as cucumber mint ice cream.
Frostbite's not just what we're all in danger of getting by walking out the door; it's also St. Louis' newest ice cream company. Owner John Clopton's making new ice cream flavors (avocado coconut, and sweet basil had recent taste tests) with big local ingredients (Chauvin Coffee, Six Row Porter, Askinosie Chocolate) the old-fashioned way - with wooden ice cream churns.
Clopton's trying to grow his new venture by competing for a $100,00 Love a Local Business grant, and making the rounds with samples to places like St. Louis Coworking and the Off White Indie Wedding Show (March 20 and Third Degree Glass Factory).
Gut Check took a few minutes of Clopton's day to learn a bit more about Frostbite.
How did you decided to start Frostbite?
I've been making ice cream for many years but really started getting into it about two years ago. I suppose it started when I really started paying more attention to what's in the foods I eat, reading food labels and shopping more often at Soulard Farmer's Market. It wasn't until a few years ago when milk and I stopped "being friends." I discovered that I'd become lactose intolerant so ice cream was pretty much off my menu of available desserts. I could have bought lactose-free or soy ice cream from the store but I decided to try to make it myself.
A trip to Target yielded my first ice cream maker and the experimentation began. After lots of research and test batches, those first experiments were "interesting" to say the least. But with practice, I was able to make a consistent product that I thought tasted good. My friends were inevitably the first guinea pigs. I kept getting "you should sell this" reactions so, after much deliberation, I decided to take the plunge and make it official.
Where are your products available?
Right now, the ice cream is only available for private parties or events. A retail location, as well as having it carried at some local establishments is currently in the works. How will you use the grant money if you win?
I hope to use the grant money to hire a sales person, and when the retail store opens I'd be looking to bring on some people as well.
What inspires your flavors?
I wanted to make sure I had flavors that were easily recognizable such as vanilla, chocolate and strawberry, but I also wanted to provide something that you couldn't find anywhere else. As far as inspiration goes, a lot of the ideas come from friends and family, but anyone can suggest a flavor. If it's something that I end up making and taste tests go well, I give away a free pint of that flavor to whoever submitted it. I usually hold taste tests at St. Louis Coworking on the first Monday of each month. Flavors may be customer suggestions or something I've concocted.
Why the wooden ice cream makers?
When I first started experimenting with ice cream, I specifically wanted to buy an old-fashioned, wooden ice cream churn. One of my fondest memories from my childhood is making ice cream on the back porch with my father. He'd lug out the churn, fill it with ice and salt and my brother and I would wait in anticipation of ice cream on a summer day. It's that same feeling that I was looking for when I bought the ice cream churn. It's that same idea I want to come across with Frostbite Gourmet Ice Cream, not only old-fashioned or hand-made, but also attention to detail, unique flavors and made with local ingredients.
Frostbite Gourmet Ice Cream http://getfrostbite.com 800 Washington Avenue St. Louis, MO 63101 (314) 596-2771