This is part three of Holly Fann's Chef's Choice profile of Adam Gnau of Acero restaurant in Maplewood. Part one can be found here. Part two, a Q&A with Gnau, is here.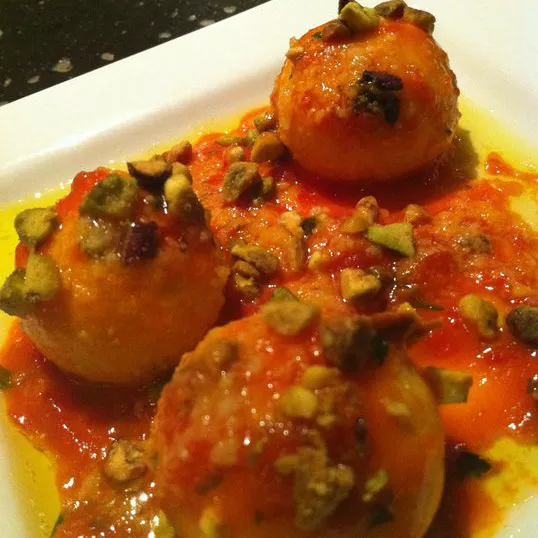 Holly Fann
Acero's Ricotta Gnudi with Tomato Sauce and Pistachios
Ricotta gnudi (pronounced noo-dee) are soft, gnocchi-like dumplings with a texture similar to the inside of traditional cheese ravioli. Acero serves its version with a simple tomato sauce and crisp piggy bits; there's also a vegetarian version, with pistachios.
Ricotta Gnudi
12 ounces ricotta cheese 4 ounces Parmigiano-Reggiano cheese 1 egg (whole) 2-1/2 ounces flour pepper flat leaf Italian parsley 1. Mix all ingredients until combined. 2. Roll or shape into desired form using more flour for hands and work surface.
3. In a large pot of salted boiling water, blanch until gnudi float to the top (as with gnocchi).
4. Serve immediately or shock in an ice bath. For the sauce, use your favorite tomato sauce recipe. The Crispy Bits (non-meat eaters can sub in pistachios) Acero uses guanciale, cured hog jowl. If you can't find any, substitute pancetta or -- if you must -- bacon. If you do use bacon, try to buy it unsmoked.
1. Cut guanciale or pancetta into small cubes or slices and fry till crisp.
2. Place the gnudi in warmed tomato sauce, then drizzle with olive oil and the piggy parts or pistachios.