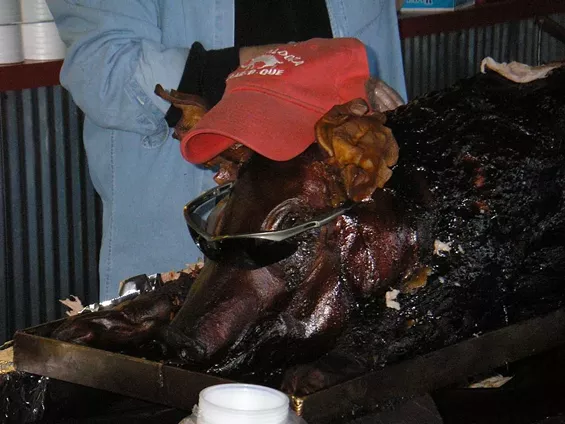 Ian Froeb
The guest of honor at a previous Pappy's Smokehouse birthday party
No restaurant is without its detractors, but if anywhere in St. Louis comes close to univeral acclaim, it's
Pappy's Smokehouse
. This here newspaper has dubbed it "Best Barbecue" for three years running (2008, 2009, 2010), and in 2008 we called it the "Best New Restaurant," period.
Pappy's celebrates its third birthday this Friday, February 4, and owner Mike Emerson informs me that, in what has become a birthday tradition, they will celebrate by smoking a whole hog.
If you've been fortunate enough to visit the restaurant on previous occasions when they have smoked a whole hog, you know this is a special thing, indeed. Expect a very long -- but very good-spirited -- line.