This is part two of Holly Fann's Chef's Choice profile of Adam Gnau of Acero restaurant in Maplewood. Part one can be found here. Look for part three, a recipe from Gnau, here.
Holly Fann
Adam Gnau of Acero
Did your family cook when you were a child? Yes, but not well. I'm not doggin' my mom here -- she cooked good casseroles and meat loaf, but nothing "outside of the box." When I was a kid, I thought I didn't like vegetables, because all of ours came out of a can. I didn't know vegetables could be green and crunchy.
How old were you when you started cooking? Thirteen or fourteen. I remember helping my grandma make dinners.
First cooking job? Sam and Louie's New York Style Pizza in Omaha, Nebraska. I started as a dishwasher, worked my way up to hoagies and pasta and then pizza. We did everything in-house. Cut our own mushrooms, made our own sauce -- everything.
Did you attend culinary school or college? I attended the Cooking and Hospitality Institute of Chicago, now a Le Cordon Bleu.
What do you eat? Oh, I I don't eat "good food." It's like the cobblers' kids don't have shoes, lawyers don't have wills, well, I don't eat good food. I'm here every day at eleven, I go home at midnight. I just don't have a lot of time to cook. I love Chicago-style hot dogs. Man, they're the best. There's something magical that happens when you drag 'em through the garden and they become a masterpiece. Frozen Totino's Party Pizzas. When I'm at work, I eat pasta. We make it super-fresh and simple and easy. Garlic, chile flakes, Pecorino Romano -- it's delicious.
What do you cook at home? Meat, potatoes, vegetables. I'm still a regular guy. Nothing too crazy.
What are your three favorite restaurants in St. Louis (besides your own!)? Oh, God. I don't really eat anywhere that should be written down. No, seriously, though, I love Blues City Deli. Crown Candy has the best BLT on the planet. I like City Diner too; it's really close to my house. Pho Grand is really good and fast and cheap. And, of course, the Crossing.
The local chef who most impresses you? Kevin Nashan is awesome. Gerard Craft, Nick at Harvest always does a really great job, Steve Caravelli at Araka, chefs who love what they do, use local ingredients and want to better the local palette. Everyone I work with. Ian, Brad, Nick. And, of course, Jim Fiala.
Your favorite restaurant elsewhere? La Taverna di Vagliagli in Tuscany and Villa Maiella in Abruzzo. I went to both of those places in Italy with Jimmy, and they were awesome. At Villa Maiella I had the best piece of chicken I ever had in my life. I'll always remember that. The setting was incredible. The restaurant sits on a hill, and on a clear day you can see the ocean. They showed us their wine cellar. The staff was incredible even though there was a language barrier. Even their silverware was cool. At La Taverna we had snails wrapped in guanciale in a simple green sauce. It was awesome. So simple, but so good!
Your favorite food city? Chicago. It's all I know. They're the home of the hot dog!
Favorite recent food find? Barbera and porcini salumi from Salumeria Biellese [in New York City], 'cause it's wicked bad awesome!
Most essential ingredient in your kitchen? Love. Gotta have love. If it doesnt have love it's gonna suck. Oh, and salt. Love and salt. Your pasta water has to have salt.
Favorite local food find, and where do you get it? It's more of a favorite local deli. LeGrand's deli on Donovan. Really good sandwiches.
Five words to describe your food. Rustic, local, rich, slow -- ya know, slow food movement: pasture raised, grass fed, all that sort of good stuff.
One food you dislike. Pudding. If I try something and I don't like it, 'll try it again and again. Everything except pudding. It's gross. It should not be around. I like a custard, like a crème brûlée, but not pudding. I don't know if it was the cafeteria's snack pack or whatever, but I really don't like pudding.
A food you can't live without. Pizza. I could not survive without pizza. I ate it three times a day for years. Oh, and sandwiches. I'll turn anything into a sandwich. I ate mashed-potato sandwiches when I worked at the Crossing. It's part of my low-carb diet. Chefs need sandwiches cause they're portable. You can walk and eat.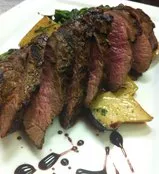 An ingredient never allowed in your kitchen. Green peppers. They're not even ripe yet! Let them get some color on them.
Culinarily speaking, St. Louis needs more... Ya know, we got a lot. We've got a lot of good chefs, a lot of diversity. We don't need any more Italian restaurants. Maybe food trucks. Yeah, more good food trucks would be awesome.
Best tip for home cooks. Don't be afraid. Don't overanalyze, but think deeply. Use common sense and make it simple and keep it easy.
Favorite after-work hangout. I go to Boogaloo all the damn time, because it's so close. And Schlafly.
Favorite kitchen tool. My staff.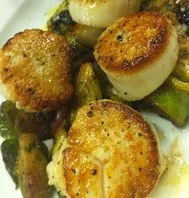 What's next for you? More stuff. I want to change Acero's whole menu. There are customer favorites that I don't want to get rid of, but I want to rebuild the entire menu and if it sucks we'll change everything back. You know, I've been making porchetta for years. Yes, it's delicious and I love it, but you just get sick of de-boning the pork butt, pounding the pork butt, smearing the pork butt, cutting the pork butt and trussing the pork butt, browning the pork butt and braising the pork butt. Pork. Butt. I just want to get rid of it.
What inspires you? The Slow Food movement. Being green and local and organic and just slowing down. When people go out to eat, it's not just about throwing food into your hole. Enjoy the time you spend sitting with your friends, your family, in a cool environment where people want to serve you and make you happy and bring you happy, fun stuff. Dining should be an experience. It's your money. if we're not kicking you out, why would you want to leave?
Chefs who inspire you. Jimmy. Jimmy Fiala gets me every time. He loves food. He's always happy to keep learning more and doing more.
Favorite cookbooks? Science in the Kitchen and the Art of Eating Well, by Pellegrino Artusi. That book is really cool, and it was given to me by one of our favorite diners, Giovanni Gasperoni.
Proudest professional moment? Being asked to teach. Whether that be at Kitchen Conservatory or at the Viking Store that closed. It's a lot of fun.
Favorite music to have in the kitchen. Anything. Abba. Eddie Murphy, "Boogie in the Butt." That's our kitchen theme song.
What's on your pizza? Spinach and pancetta from the Good Pie. That was so friggen' awesome. It was salty and creamy and had a bit of bitterness from the spinach. Oh, my God. They have their super-mixer that makes their dough all awesome. Fatty niblets of pancetta love. It was awesome.
Whats in your omelet? Spinach, mushrooms and truffles.
What are you drinking? Beer. Delicious beer. Not bad beer. I'm starting to really like old whiskeys and scotch.
What's the most surprising food you've eaten? I ate sweetbreads and livers inside what I was told by a man was bowel. I have no idea what "bowel" was to this guy, but it was awesome. I think it was lamb. A lamb bowel. And it tasted grassy.
What's the most difficult lesson you've learned in this business? Relationships are difficult. And you can't always be super-nice to everybody even though you may want to be super-nice to everybody. Sometimes you have to be an asshole. And that sucks.
When did you know the chef's life was for you? When I was working in the country club. I was seventeen or eighteen. It was too much fun. I met people from Honduras, Guatemala, Mexico, and a dude from Palestine and a guy from India. There were all these different kinds of people. It would be someone's turn to cook family meal and we would get something totally different and strange and new. And the way it's all broken down. When you cook you get to wear cool pants and a cool jacket and a really dumb hat, and you get to play with really sharp knives and fire and there's alcohol all over and it's dangerous. Everything is bigger. In a kitchen you see more carrots in one day than you've ever seen in your entire life, and your job is to cut them all up as fast as you can. It's awesome.