This is part one of Holly Fann's Chef's Choice profile of Adam Gnau of Acero restaurant in Maplewood. Part two, a Q&A with Gnau, is posted here. Look for part three, a recipe, here.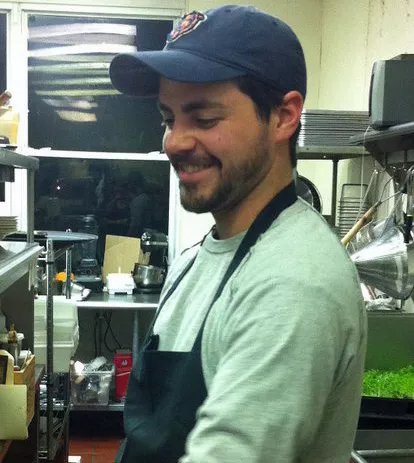 Holly Fann
Acero chef Adam Gnau says love makes the restaurant go 'round.
Adam Gnau is in love. Wide-eyed and dew-faced in love.
With food.
He's not a "swing by the restaurant and write a menu and then linger around the bar flirting with customers" type of guy; you'll find him in the kitchen six nights a week, elbows deep in tickets as he expedites the line at Acero while Eddie Murphy's "Boogie in Your Butt" bumps from the boombox in the kitchen. He does this for twelve hours a day for you, the customer, and he does it with sincerity. And with love.
A native of Chicago, Gnau moved from city to city before coming to St.Louis in 2004 to work for multi-tasking restaurateur Jim Fiala, whose mini-empire also includes Liluma, the Terrace View and the Crossing.
"I gave a résumé to the Crossing, and they passed it to Liluma," Gnau recounts, "and I just went in for an interview and got hired on the spot. I still lived in Omaha, and I was asked how long it would take to start. I said two days, went home packed two suitcases and lived out of those for nine months, till I had time to retrieve my things."
He doesn't regret the decision.
"I couldn't have found a better chef to work for than Jim Fiala. He's a really good boss, a really good person, he loves food," says Gnau. "I got lucky hooking up with Jimmy."
Fiala seems to know what's best for Gnau even when the latter doesn't realize it.
"Jimmy orders stuff for me without me knowing it," Gnau says. "He ordered sardines for me the other night: This guy came with little fishies on ice, and I was, like, 'I didn't order that!' And he said, 'Your boss ordered them for you.' I told him I don't want little fish, I'm not going to get people to eat little fish with the heads on them. But we did, and it was great. He's always throwing curve balls. I love that."
Love is a chief component of Gnau's food philosophy. "If it doesn't have love, it's gonna suck," he says. "The front of the house and the back of the house get along here. We hang out together on our days off and after work. We really enjoy everybody's company. It makes work so much more fun. It makes our food so much better. It makes our service so much better."
He talks like someone who has found exactly what he was looking for. "I think of what they tell you in culinary school -- that half of the graduates will never even work in a kitchen and half of the half who do will end up dropping out and being bankers or something in ten years, and I'm wondering: How does that happen?" he says. "I mean, why would you ever leave this? It's too much fun!"