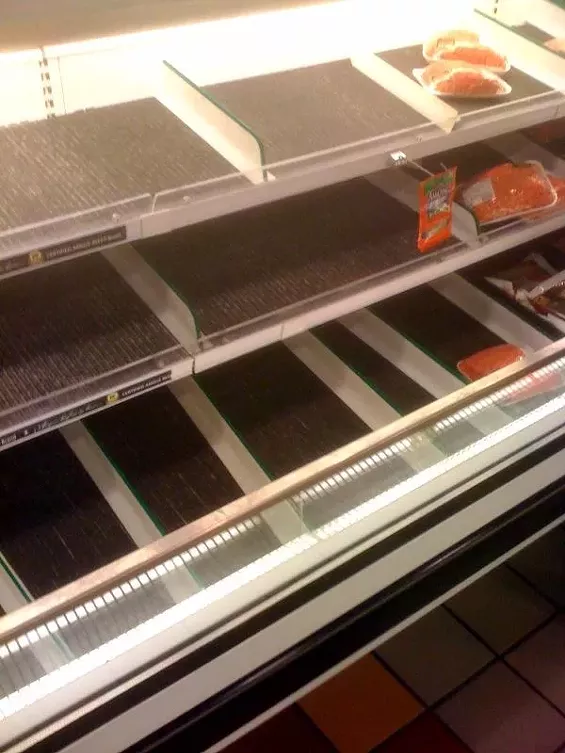 If you stopped by the
Schnucks
in Richmond Heights between noon and one o'clock today, hoping to find milk, eggs and bread before
Snowpocalypse 2011
descends upon us in a fury of snow, ice and wind...you were in luck, actually. From what I could see, all three staples were fairly well stocked, the milk shelf almost full, the bread and eggs not too picked over.
As for "Certified Angus"
ground beef
...well, as you can see in the photo above, that is almost entirely cleaned out. After the jump, nine more items ransacked at Schnucks this afternoon.
(Apologies in advance for the crappy cell-phone pics.)
This is St. Louis. We love meat, and we love
toasted ravioli
. If you want frozen T-ravs to help tide you over until the Hill is dug out, you'd better hurry.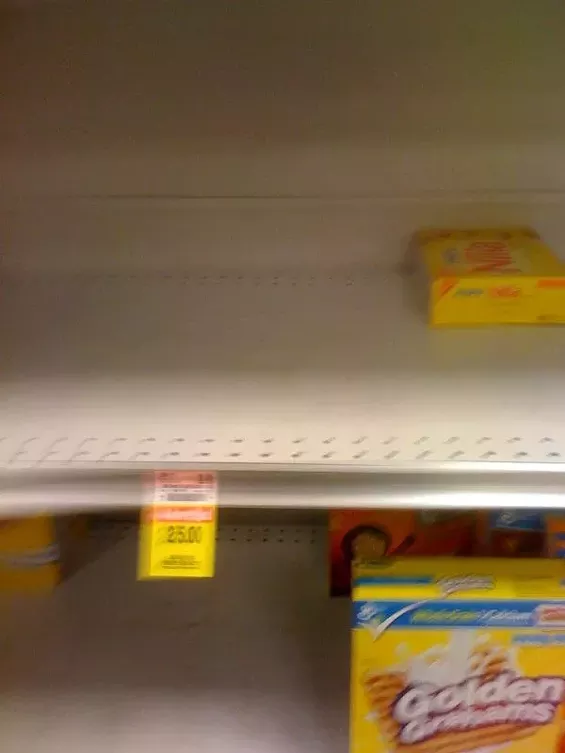 The cereal aisle, though certainly showing signs of heavy traffic, still had a decent amount of most brands -- except
Cinnamon Toast Crunch
. If you can't start your morning without a bowl of cinnamony-sugary goodness, too bad.
The selection of
potato, corn and other chips
was picked over, though the sheer amount of snacking goodness available will probably prevent any true shortage.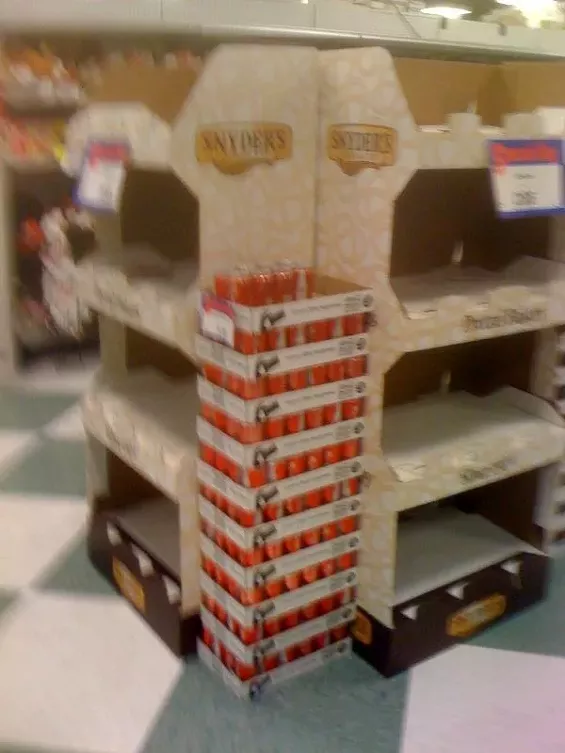 The folks at Snyder's of Hanover smartly put a display of
pretzels
near the checkout line. Everyone, it seems, realized how tasty pretzels would be on a cold winter's day as they waited...and waited...and waited to check out.
Back to the frozen section because we're lazy, fat-assed Americans:
Tater Tots
, in their apparently infinite variety, were a hot ticket.
We're also cheap. There was plenty of wine and beer to be had...unless you wanted
Yellow Tail wine
in which case the pickings were as slim as a kangaroo's pouch. Or something like that. The pinot noir was especially popular.
As you might expect, given the popularity, convenience and cheapness of
pasta
as a meal, canned tomatoes, jars of pasta sauce and boxes of pasta were in increasingly short supply.
Everyone fears their taps will freeze when the temperatures plunge? They still haven't gotten the memo about how good St. Louis tap water tastes? Whatever the reason, the well of
bottled water
was running dry.
Will there be a Snowpocalypse 2011 baby boom in late October and early November? Not if this display of
condoms
is any indication.