Paul Bosland
The new jalapeno variety is medium hot with large fruit.
Because the average jalapeno pepper isn't big enough to hold nearly as much cheese as we'd like, the New Mexico State University chile pepper breeding program has genetically engineered the 'NuMex Jalmundo'. It's a hybrid between a jalapeno and a bell pepper, created specifically to meet our giant cheese-stuffed pepper demands.
Not that this genetic hybridization is new; it's just the first time we've seen it done solely for cheese-stuffing purposes. There's a world of giant produce being grown just for bragging rights. These backyard beasts need higher purposes. Like cheese delivery.
Carolina Cross Watermelons The pride of Hope, Arkansas - presumably after Bill Clinton, depending on who you ask - these watermelon farmers have specialized in fruits tipping the scales upwards of 200 pounds. Looks great in a truck bed!
giantwatermelon.com
Party at Bill's place!
Stuff it with: several hundred gallons of homemade hooch. The sweet melon will ease the bite of Granddad's White Lightening.
Kelsea Sweet Giant Onions It's the biggest onion in the world, with one clocking in at over 15 pounds.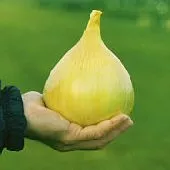 Reimer Seeds
Bloomin' awesome!
Stuff it with: a shitload of beer batter and hot grease, because one Outback Steakhouse Bloomin' Onion doesn't pack enough killer heartburn power. Atlantic Giant Pumpkins: The late Howard Dill created the original Atlantic Giant, the world's largest variety of pumpkin that usually weights over 200 pounds. Other Dill family creations have surpassed the 1000 pound mark.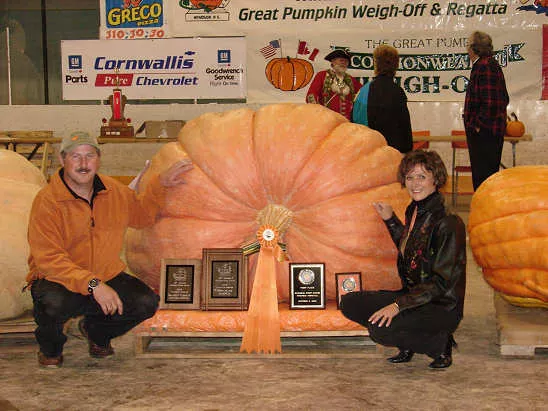 Dill's Atlantic Giant
Where's Bozo?
Stuff it with: clowns. It's bigger than a Volkswagon and would make the most traumatizingly scary jack o'lantern ever.
Big Zac Tomatoes The world's largest tomato species doesn't seem very big when compared to vehicle-sized versions of other produce. But a five-pound tomato's still pretty weighty.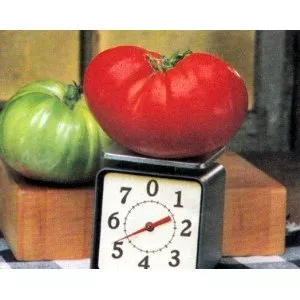 amazon.com
You say tomato. I say holy crap, that's big.
Stuff it with: tuna salad made from the last remaining blue fins in the world.
Honey Mushrooms Fungi know no bounds, able to cover large plots of land and trees. The largest living things in the world tend to be fungi, like a batch in Oregon that currently covers over 2200 acres. Most of the fungus is underground, but every now and then it'll send a massive, edible honey mushroom to the surface.
Extreme Science
Honey, you don't know the half of it.
Stuff it with: people. Use as a stairway to reach a secret civilization of subterranean fungi-dwellers before they overtake the human race.
A mystery giant rutabaga from Minnesota The Park Rapids Enterprise doesn't tell us much about Todd Nordquist's giant rutabaga. Not even the size. We do know that it was sprayed by crop dusters and Nordquist wanted to have it preserved.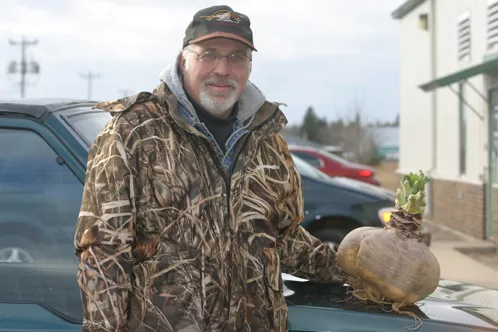 Park Rapids Enterprise
Nobody wants your rutabaga.
Stuff it with: taxidermy agents. No one wants to eat that much rutabaga, anyway.