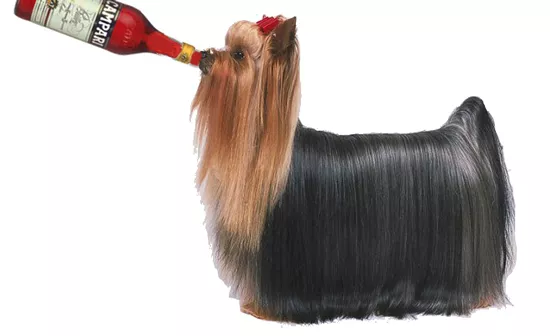 For our first column of the year, let's start with an off-color joke!
Why don't Jews drink? It interferes with their suffering. Thankyouverymuch, we'll be here all week. (And thank you, Henry Youngman.) But seriously, after a full year of documented drinking, we can attest that drinking is as likely to be the cause of suffering as its relief.
If Drink of the Week could tell you how to extract all the joy out of imbibing while avoiding the misery, our wisdom wouldn't be available in column form, only to those who make a pilgrimage to a remote mountaintop in Tibet. Sorry to disappoint, gentle reader, but we're as tied to this mortal coil as the guy on the next barstool.
What we have instead, when we look back at our Drinks of the Week 2010, is a strange little diary. There it is, our whole year, poured into pint glasses and champagne flutes, sucked through a straw and sipped neat, and grabbed on the fly in a paper cup.
We started 2010 with Barritt's Bermuda Stone Ginger Beer and ended it with Red Stripe. Obviously our mind is elsewhere at this time of year, but at least we came full circle. In the in-between we drank malt liquor and moonshine and nursed hangovers big and small. Here's what we remember.
Corpse Reviver No. 2, the Royale The emphasis on cocktails, especially classic cocktails, over the past few years has pushed bartenders around town to up their game. Cocktail menus got a spit-polish; some even added touches like infused liquors and house-made syrups and bitters. We see this as a positive trend, but trends come and go. If molecular mixology takes off, we'll all be eating Dippin' Dots gin pellets and sipping cheeseburger-flavored manhattans. What Robert Griffin is doing at the Royale never goes out of style.
His Cocktail Museum Sundays are a repository of knowledge, passion and dedication to craft the likes of which are rarely found on any subject, much less in a bar. If he's mixing the drinks, you really can't go wrong, but the Corpse Reviver No. 2 is a good place to start. We had one (okay, two) last April and this is what we had to say: "a lovely drink, perfectly suited to a warm spring night relaxing in the Royale's courtyard. Served up, in a cocktail glass, it is translucent, opalescent, seemingly lit from within rather than just reflecting the streetlamp. It tastes how it looks: light, clean, subtle."
85 Lashes Rum, The Stable In the past twelve months, we have taken a virtual tour of the world via booze: Brazilian cachaça, British gin, Italian prosecco, French brandy, Chilean wine, sake from Japan, and scotch from, uh, Scotland. Of all of these, the spirit that made the biggest impression was 85 Lashes Rum, from right here in the good ol' STL. "Made with only pure cane sugar and molasses, twice distilled in old-fashioned pot stills and aged on French oak for up to a year, redolent with vanilla bean and burnt sugar but dry on the tongue," it's available at area liquor stores or straight from the source at the Stable.
Campari and Orange Juice, La Dolce Via We reported on several remedies for overindulging, such as the aforementioned ginger beer with bitters to settle the stomach, and kombucha, a fermented tea that allegedly boosts the immune system. Far and away the most pleasant and effective of these was Campari and fresh-squeezed OJ from La Dolce Via, which we described thusly: "Campari's bright red electrifies the orange, and its bitter flavor plays beautifully against the sweet-tart juice. It hits every region of your tongue with mouth-filling intensity, announcing, 'Time to wake up!' The sugar and vitamin C from the OJ will arrive in your bloodstream shortly, followed by the palliative effect of the alcohol. Next thing you know, the world is a kind and forgiving place again." Combined with La Dolce Via's superlative Saturday and Sunday brunch, it will patch you right up. It's probably good if you're not hungover, too.
Our predictions for 2011? This year we're abstaining. (From predictions, that is.) If there is any lesson to be learned from all the drinking, and all the writing about it, we've done since last January, it's that what makes for a great experience is totally unpredictable.
One of our most memorable drinks this past year was the Turkish coffee at Aya Sofia and having our coffee grounds read by one of the owners. A utilitarian weekday lunch was imbued with magic and charm by a little demitasse of super-strong coffee, and by her spot-on predictions. Last January we declared 2010 the Year of Pushing Our Luck, and that turned out to be a little on the nose. This time around we're not feeling so bold, but we're just as eager for the new year, if only because we can't wait to see where it goes.