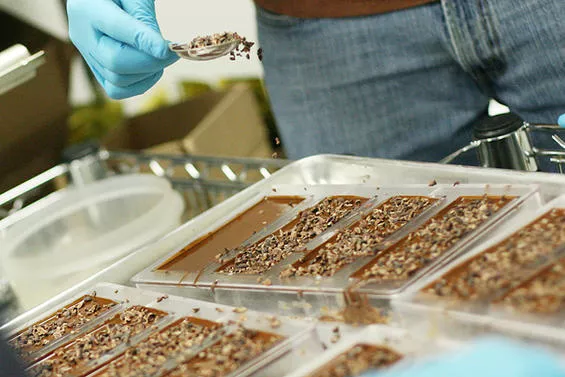 Nick Schnelle
A In-NIB-itable Bar is born.
Patric Chocolate, one of the two Missouri bean-to-bar chocolate makers profiled in Riverfront Times last year, is officially good food. That is, Patric's In-NIB-itable Bar won a blue ribbon in the inaugural Good Food Awards in San Francisco last week.
The 71 winners of the Good Food Award were judged by a panel of farmers, food writers and grocers as the finest and most sustainable craft-food products in the United States. In addition to chocolate, categories included cheese, charcuterie, coffee, pickles, preserves and beer. Patric was the only winner from Missouri. (Salume Beddu's coppa rossa was a finalist in the charcuterie category.)
"It feels great to be Good Food," says Alan McClure, Patric's owner and founder. "I'm glad people are telling other people about it. The toughest thing is getting people to pay attention. I'm glad that the people behind Good Food stepped out from behind the boundaries of California."
The In-NIB-itable Bar is made from 70 percent Madagascar chocolate with roasted cocoa nibs mixed in. It has an intense, almost fruity flavor.
"Probably what struck the judges -- and I'm guessing because I didn't talk to anybody -- is that it was in the inclusion category, but it was all chocolate flavor," says McClure. "It wasn't nut, it wasn't fruit. It was excellent-quality cacao with an inclusion at the same time. It makes the bar interesting and different. There's a contrast in terms of texture, and yet it's still pure chocolate."
The Good Food Awards are an outgrowth of Slow Food Nation, an enormous celebration of local food that took place in San Francisco over Labor Day weekend 2008. Though Slow Food Nation attracted 85,000 celebrants, the event was too complex to become an annual affair. So the organizers decided to give annual awards instead.
"By publicly celebrating the achievements of artisans across the country we are sharing the good news about food," Alice Waters, one of the keynote speakers at the awards ceremony, said in a press release. "The Good Food Awards are the county fair of our times and like those fairs that brought our communities together in a positive way, these new awards have the potential to strengthen our communities and rebuild our food culture."
Unlike many other food awards, which are connected with trade fairs like the annual Fancy Food Show, food producers don't have to pay to set up a booth at the show, which can cost thousands of dollars.
"Those awards are not just about quality," says McClure. "You have to pay to play. That's always bothered me. That's not how the Good Food Awards functions, and that's a good thing."
Here's a list of stores in the St. Louis area where you can buy an In-NIB-itable Bar and other Patric products.