Today's Question: How many of Michael Pollan's Food Rules can be broken in a bowling alley?
Crest Bowl (650 North New Florissant Road; 314-837-0497)
Crest Bowl has been around since 1958 -- and has the cool old signage to prove it. | Gut Check photo
​Nuns used to rap the knuckles of lefties till they wrote with the right hand; Michael Pollan would like to thunk us all upside the head until we buy his version of salvation. But the heads of bowlers are as hard to crack as their balls....
Picture a long wooden refectory table with Food Ruler Pollan dead center, surrounded by twelve followers. Platters are piled high with tasty weeds like purslane, plates are crowded with hard-boiled eggs that cost 67 cents each, from big bowls of hot sauerkraut waft clouds of probiotic funk. As the scintillating conversation swings back once more to the eating habits of the Hunza, a metronome ticks in the middle of the table, the rhythmical reminder for everyone to chew each mouthful of food 100 times in observance of that old Indian proverb, "Drink your food, chew your drink."
Now imagine the interior of Crest Bowl in Florissant. A big pile of snow has been dumped upon the land overnight and the parking lot is a sheet of scraped ice, but the bowlers haven't let the threat of a broken hip keep them from their strikes and spares. Two little old ladies wearing fuzzy blue caps and tan wrist splints, Mary and Lenora, have a dish of jawbreakers on the table in front of them. "These are our favorites," they say. "Because they look like little bowling balls." Such frivolous indulgence in "industrial novelties" is in direct violation of Rule #1, "Eat Food."
Why do the Vietnamese call nachos "khoai tây chiên?" | Gut Check photo
​But the Crest Bowl bunch are all too busy rolling their rocks to take their food seriously. These players violate Rule #55, "Eat Meals," with delight, summoning forth chicken strips, fries and nachos from the Snack Bar. For good measure, one of the spécialtés de la maison, nachos, also breaks Rule #21, "It's not food if it's called by the same name in every language. (Think Big Mac, Cheetos, or Pringles.)" Nachos means nachos in practically every one of the 52 languages listed on Google Translate. Check it the fuck out!
Though we can't offer video to prove it, take our word that nearly everyone present who had strapped on the ol' feedbag was masticating in violation of Rule #49, "Eat Slowly." You can bet no one here would think of missing his turn in order to get in that 100th chew! ​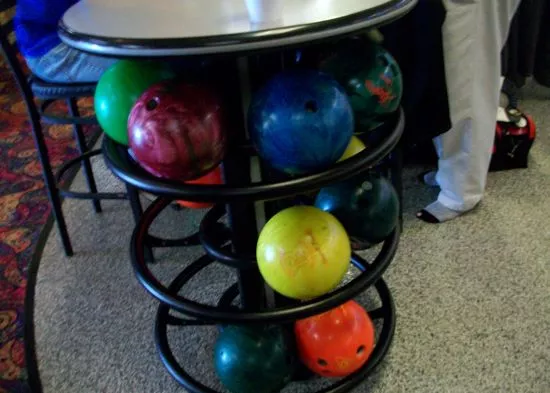 Hey, mister! There's a hole in the toe of your sock! And those bowling balls look like jawbreakers. | Gut Check photo
Michael Pollan's 2007 best seller The Omnivore's Dilemma documented the industrialization of the world's food supply and whipped the foodie vanguard into a self-righteous froth. His encore, the "Manifesto" In Defense of Food, revealed the author as a proselytizing zealot/minimalist poet ("Eat food. Not too much. Mostly plants."). Then, in 2009, came Food Rules, an "Eater's Manual" of 64 pedantic edicts whose presumption will cause angry boils and cuss words to flare up in those who resent cultural fascism in any form.
This series of weekly blog posts, written by Gut Check contributor Suzy Rust, is for the free-thinking few...
See also: - Breaking the Food Rules at Jay International - Breaking the Food Rules at Hit-N-Run - Breaking the Food Rules at Old St. Louis Chop Suey - Breaking the Food Rules at "Winter Blows" Swap Meet & Bike Show