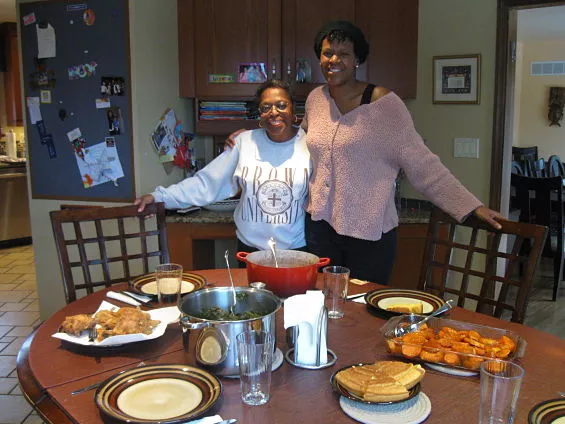 On a recent morning, Andria Simckes and her mother Evelyn Lard invited Gut Check to Simckes' Creve Coeur kitchen to give us a crash course in their specialty: kosher soul food. The results were delicious. They were kind enough to provide recipes, but Gut Check declines to take responsibility if they don't come out as tasty in your own kitchen.
To read a post about Andria Simckes' adventures in kosher cooking, click on Kosher Soul Food: Uncommonly Delicious.
Collard Greens with Kosher Smoked Turkey Leg (Meat)
4 bunches of collard greens Salt Garlic powder Kosher smoked turkey leg 2 cups water
Under running water, using a paper towel, wash each collard green leaf individually, front and back. Inspect the leaves for bugs or discoloration. Remove any found. Tear leaf from the thicker part of the stalk. Discard thick stalk. Fill sink with cool to cold water. Place greens in the water; water should cover the greens. Use your hands to wash the greens in the water. Repeat as needed. Once no debris is evident in the water, greens are clean.
Place 4-6 leaves rolled into a cylinder onto a cutting board and slice roll into half-inch strips. Repeat until all leaves have been cut.
Place a stockpot filled with two cups of water and the kosher smoked turkey leg on the stove and bring water to a boil over medium heat. Add sliced greens to boiling water. Greens may appear to overflow the pot. Don't worry, greens will shrink.
Cook at least one hour (I prefer two hours); greens should be tender. During cooking time, occasionally rotate greens, using a long-handled fork, from bottom to top. Taste greens to correct seasoning. Add salt if needed.
When serving, break off pieces of smoked turkey.
Serves 10-12
Black Eyed Peas (Pareve)
1 small package of dry black-eyed peas Salt to taste 2 tablespoons of margarine 1 teaspoon of garlic powder Water
Follow directions on back of the back for cleaning the peas. Rinse them in cold water. Pour off the rinse water. Place the peas in a stockpot and cover with cold water; water should be about ½ inch above the peas. Soak the peas from 2 hours to overnight.
Pour off the water. Cover peas again with cold water and put stockpot on stove on medium heat. Cook for 2-2 ½ hours. Add margarine, salt, and garlic powder at any time during the 2-2 ½ hours cooking time. Stir occasionally. Mash some of the peas after they have softened against the side of the stockpot. This will thicken the broth.
Add additional salt if needed, after tasting. Serve hot.
Glazed Sweet Potatoes (Pareve)
(From Kosher By Design)
4-5 pounds sweet potatoes, peeled (about 5 large) 4 tablespoons (1/2 stick) margarine 1 cup dark brown sugar 1 tablespoon vanilla extract ¼ teaspoon salt ¼ cup whiskey or bourbon, such as Jack Daniels
Preheat oven to 375 degrees. Cut the sweet potatoes into ½-inch slices. Steam the sweet potatoes for 10 minutes or until soft but not mushy. Remove potatoes from the steamer and set aside.
In a small saucepan, melt the margarine over medium heat. Add the brown sugar, vanilla, and salt, stirring until the sugar is dissolved. Stir in the whiskey or bourbon and cook for 5-10 minutes or until slightly thickened, stirring occasionally.
Spray a large 9- by 13-inch glass baking dish with nonstick cooking spray. Place the sweet potatoes in the pan and drizzle the sauce over the top.
Bake uncovered for 1 hour. Baste with the sauce every 10 minutes to keep the potatoes from drying out.
Yield: 8-10 Servings
Fried Chicken (Meat)
At least 1 kosher cut-up chicken (buy more depending on the number of people serving) Vegetable or canola oil Salt Pepper Garlic powder Sweet paprika All-purpose flour
Kosher chicken often has feathers. In order to keep the skin on the chicken, I remove the feathers, using a long handled fork to hold the chicken, while I use a small hand held propane torch to singe any feathers. I then use tweezers to pluck the singed feathers. Allow extra time for this process; it is time-intensive, yet well worth the effort.
After feathers are removed, remove all excess fat from the thighs and the breast pieces. Wash all chicken pieces and set on a cookie sheet or another flat surface. Salt and pepper each side of the chicken pieces. Set aside.
Place a large, deep skillet on the stove. Add about 2 inches or more of vegetable oil. Heat oil until hot over medium heat. While oil is heating, add flour to a Ziploc bag. For one chicken, you should need about 1 ½ cups of flour. (If you use more than one chicken, you will need more flour.) To the flour, add 1 tablespoon of salt, 1 tablespoon of black pepper, 1 tablespoon of garlic powder, and 1 ½ tablespoons of paprika. Close Ziploc bag and mix together. To see if the oil is hot enough, sprinkle a little of the flour mixture into the oil. If oil is hot enough, the flour mixture will sizzle.
Once oil is hot, place inside the Ziploc bag 2-3 pieces of chicken. Close and shake bag until pieces are evenly coated with flour mixture. Open bag, and grab a piece of chicken. Shake off excess flour mixture. Place chicken skin side up into the hot oil. Repeat process until the skillet is full, but not crowded (make sure space exists between chicken pieces). Use tongs or two forks to turn chicken pieces. Do not pierce the meat when turning. Chicken will be ready to turn over when you lift it and the side is brown. Chicken is ready when both sides are equally brown. When brown, carefully remove chicken piece from the oil and drain on paper towels. After draining, place chicken on a platter or plate. Repeat until all pieces are cooked.
Corn Bread
2 cups corn meal 1 cup all-purpose flour 1 tablespoon of baking powder 1 teaspoon of salt 1/8 teaspoon granulated sugar 2-3 eggs ¼ cup vegetable oil Soy milk
Preheat oven to 350 degrees Fahrenheit. Sift corn meal, flour, baking powder, salt, and sugar into a large mixing bowl. Pour oil into a cast iron skillet and heat oil and skillet in the preheated oven for 3-5 minutes. Pour some soy milk into your corn meal mixture. Stir mixture. Add additional soy milk to mixture until the consistency resembles pancake batter (i.e. loose, but not runny). Once consistency is correct, add eggs and beat by hand for 1-2 minutes. Pour hot oil into mixture and mix thoroughly into the batter.
Pour batter into hot pan and cook for 45 minutes to 1 hour. Use a toothpick in the center of the corn bread to test its doneness.
Vanilla Pound Cake (Pareve)
(From Faye Levy's International Jewish Cookbook)
1 1/3 cups all-purpose flour 1 ¼ teaspoons baking powder ¼ cup (1 ½ sticks) margarine, at room temperature (can use unsalted butter for dairy) 1 cup plus 2 tablespoons granulated sugar 3 large eggs, at room temperature 2 teaspoons vanilla extract 5 tablespoons water (can use heavy cream, half-and-half or milk for dairy) Confectioners' sugar for dusting (optional)
Preheat oven to 350 degrees Fahrenheit. Butter and flour a nonstick 9 x 5-inch loaf pan, tapping pan to remove excess flour. Sift flour with baking powder.
Cream butter in a large bowl, if possible using paddle beater of mixer, at medium speed until butter is soft, smooth, and most of it clings to side of bowl. Gradually beat in sugar. Beat mixture at medium speed until it is very pale, smooth, and fluffy, about 4 minutes. Beat in 2 eggs, one by one, at medium speed, beating thoroughly after each. Beat third egg in small bowl. Add it to mixture gradually, beating thoroughly after each addition. Batter may look like it is beginning to separate, but it will come together when flour is added.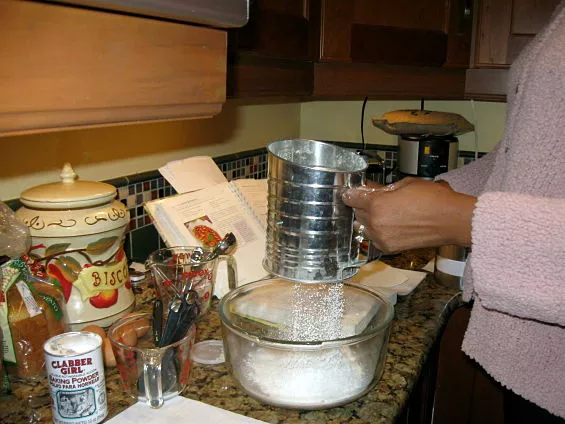 With mixer at low speed, add about one-fourth of flour mixture to batter. Blend in vanilla and about 1 tablespoon water. Blend in remaining flour in three batches, alternating with remaining water. Stir at low speed just until blended.
Spoon batter carefully into pan. Smooth top with spatula. Tap pan a few times on work surface to level batter. Set pan in oven with short side of loaf pan facing back of oven. Bake until cake tester inserted in center of cake comes out completely clean, about 50 minutes.
Cool cake in pan on rack 10 minutes. Run thin-bladed flexible knife around edges of cake and turn cake out onto rack. Carefully turn cake back over and cool it completely. (Cake can be kept, wrapped in plastic wrap or foil, up to three days at cool room temperature or up to one week in refrigerator; or it can be frozen about two months.)
Serve cake at room temperature. Sift confectioners' sugar over it if desired. (I usually avoid.) Cut cake into ½- to ¼-inch slices with a serrated knife.
Makes 10 to 12 servings