Gas, booze, coffee, soda: Hit-N-Run recognizes -- and meets -- the fuel needs of its public. | Gut Check photo
Today's Question: How many of Michael Pollan's Food Rules can be broken in a convenience store at breakfast time?
Hit-N-Run (2345 State Street, Alton, Illinois; 618-466-0411)
​How many of Michael Pollan's Food Rules can be broken during breakfast at a convenience store? Rule #20, "It's not food if it arrived through the window of your car," is a good place to start if you're trying to make the case that Hit-N-Run -- self-styled "Home of the Hummdinger," renowned for its double drive-thru, which requires carhops to sherpa orders out both sides of the store -- is one of the most anti-Food Rules establishments in the metro area. It's a lazy drinker's dream: The only muscles you'll need to exercise are in your foot, when you step on the gas after paying up.
But let's venture inside for a closer look at the Food Rules infractions on offer here.
At the wall of thermoses known as Mojo Café, a man whose face is covered with reverse freckles (more pigment than pale) dumps eight ounces of nondairy creamer and eight ounces of sugar into a sixteen-ounce Styrofoam "Mojo To-Go" cup -- let's see: fake cream, refined sugar and Styrofoam...a Pollan terrible trifecta! -- then pumps in a few squirts from the thermos labeled Serious Coffee for Serious Coffee Drinkers. (No, not Fair Trade organic Kona, just 50 Percent More Caffeine!)
The inevitable involuntary comment, "Jesus, you sure do like your sugar," prompts Freckles to grin a mouthful of surprisingly healthy-looking chompers and reply, "Yep, if it don't hurt my teeth, it ain't sweet enough." He wanders back to a bottle-lined nook and orders a half-pint of gin. "Gin tastes better with coffee than vodka does," he assures you and the neck-tattooed cashier with a nod. This is your cue to pump your own cup of hot black Serious Coffee and purchase some breakfast.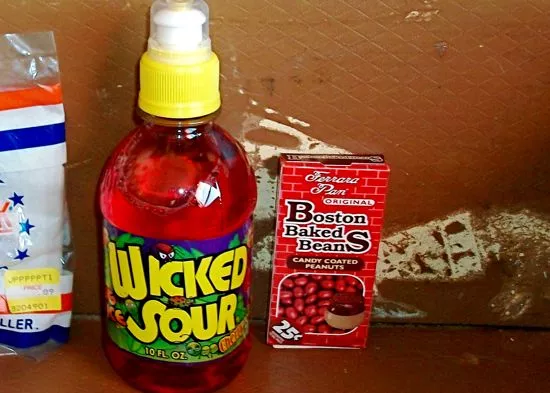 Red is an energizing color that's sure to get you going in the morning. | Gut Check photo
​Wicked Sour Cherry Bug Juice and Boston Baked Beans break Pollan's Rule #6, "Avoid food products that contain more than 5 ingredients"; Rule #7, "Avoid food products containing ingredients a third-grader cannot pronounce"; and Rule #10, "Avoid foods that are pretending to be something they are not."
Those three rules are broken at Hit N Run like eggs on Halloween night. The "beans" and the "juice" contain twelve and eleven ingredients, respectively, and best of luck to local third-graders who try to get their mouths around "carnauba" and "acesulfame." As for pretending to be something you're not, one needn't elaborate beyond "Boston Baked Beans" and "Bug Juice."
Wicked Sour Cherry Bug Juice would taste even better with gin than coffee would, but combine it with UV Blue Raspberry Vodka (also for sale here) and you're talking purple and potent -- Bug Potion #9. But lest one be tempted to reconcile early-morning alcohol consumption along these lines with Rule #43, "Have a glass of wine with dinner," don't bother; UV Blue Raspberry Vodka isn't made from grapes. Hell, it's not even made from blue raspberries -- just wood chips and about 24 other unpronounceable ingredients.
Truth be told, Hit-N-Run pretty much smashes all 64 of Pollan's Food Rules into brittle shards of imitation intelligence, even Rule #39, which starts out so cheerfully doable: "Eat all the junk food you want...." Naturally, the story doesn't end well: "...as long as you cook it yourself."
How is anyone supposed to cook up a batch of Jolly Ranchers at home?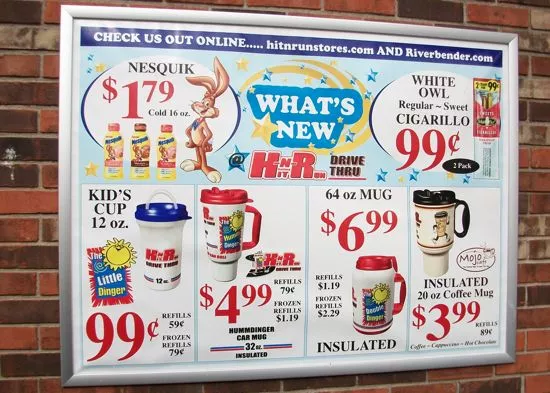 Hit-N-Run also sells drug-test kits and Landshire's "Chuckwagon" sandwiches. | Gut Check photo
Michael Pollan's 2007 best seller The Omnivore's Dilemma documented the industrialization of the world's food supply and whipped the foodie vanguard into a self-righteous froth. His encore, the "Manifesto" In Defense of Food, revealed the author as a proselytizing zealot/minimalist poet ("Eat food. Not too much. Mostly plants."). Then, in 2009, came Food Rules, an "Eater's Manual" of 64 pedantic edicts whose presumption will cause angry boils and cuss words to flare up in those who resent cultural fascism in any form.
This series of weekly blog posts, written by Gut Check contributor Suzy Rust, is for the free-thinking few...
See also: - Breaking the Food Rules at Jay International - Breaking the Food Rules at Crest Bowl - Breaking the Food Rules at Old St. Louis Chop Suey - Breaking the Food Rules at "Winter Blows" Swap Meet & Bike Show