Welcome to Girl Walks into a Bar, a weekly Gut Check feature that spotlights local bars and bartenders. This is part one of Alissa Nelson's two-part profile of Danno's American Pub bartender Chris Muether. Part two, a Q&A with Muether, will be published tomorrow.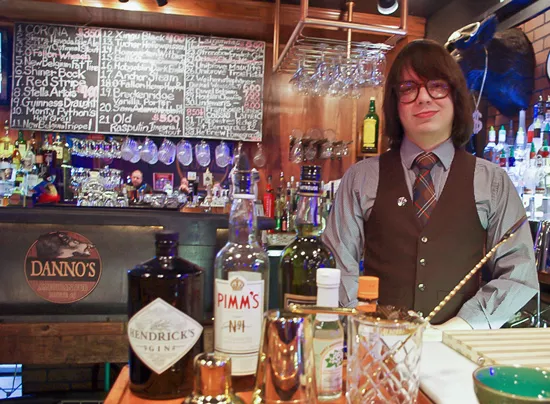 The gentleman seated at the bar has come in for his usual: an after-work glass of Drambuie.
Chris Muether is scouring Danno's American Pub (7895 Watson Road, south St. Louis County; 314-395-3000) for a bottle he's sure must exist -- but where the heck is it? Empty-handed, he asks permission to mix up a replacement, something that will approximate the Scottish liqueur's warm honey and spice notes. He pulls bottles from the length of the bar, adding a splash here, another there, and offering explanations as to why each merits inclusion. Finished at last, he hands the drink over the bar. The man sips, and gives an approving nod. "Yeah, that'll work."
Click through to watch a video of Muether mixing an Agent Orange...