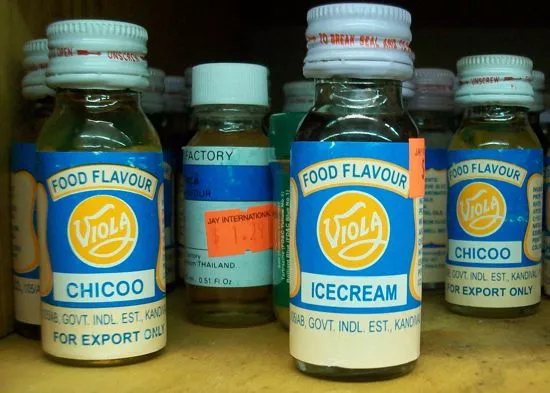 What does "Chicoo" taste like? | Gut Check photo
Today's Question: How many of Michael Pollan's Food Rules can be broken in an ethnic market?
Jay International Food Co. (3172 South Grand Boulevard; 314-772-2552)
​The bottles above break Michael Pollan's Food Rule #19: "If it came from a plant eat it; if it was made in a plant, don't."
Because you know Viola Food Flavour's secret to making cod-liver oil taste like ice cream did not grow on a tree.
Clearly Jay International delights in smashing Pollan's joyless tenets.
Not only are Jay's crowded aisles a lesson in world geography, they also elicit many gasps of visual delight and disbelief. As you wander 'neath the flags of unfamiliar lands, it's hard to avert your eyes from the wares for sale, but the clientele is worth watching as well: women in burkas buying hot-pink Lebanese-style turnip pickles, men with dreadlocks stuffed up into garish Rasta caps checking out the canned ackee and jerk paste, whiteys in Birkenstocks and long corduroy skirts buying seaweed and tea, a big bald Uncola man mumbling "69 cents, 69 cents, 69 cents" to the ramen. But although you may palaver with the guys behind the fish counter, asking what the hell that ugly, slippery, whiskery creature oozing into the ice is, most of your communion will be with the cans and jars and bottles and bags.
A cross-eyed steer sticking out its tongue captures the essence of these beef tendon balls. | Gut Check photo
​Random amiable conversation with strangers is difficult when you're busy gaping at all the pretty ugly items purveyed here, most of which break Pollan's Food Rules like crazy. Because anything "edible" that made the long trip from Bangkok and beyond without turning into a mouldering morass of green slime has got to be full of preservatives galore. Which is in direct violation of Rule #13: "Eat only foods that will eventually rot."
If you want to be perverse and mangle the truth, the giant embalmed radish below could actually be said to follow Pollan's Rule #25: "Eat your colors." It's pumped up with a generous helping of FD&C Yellow #5: Not one of the phyto-chemicals Pollan authorizes, but a chemical nonetheless, perhaps the same one that will someday spark a crucially beneficial human evolutionary mutation, like being able to smoke with no health risks.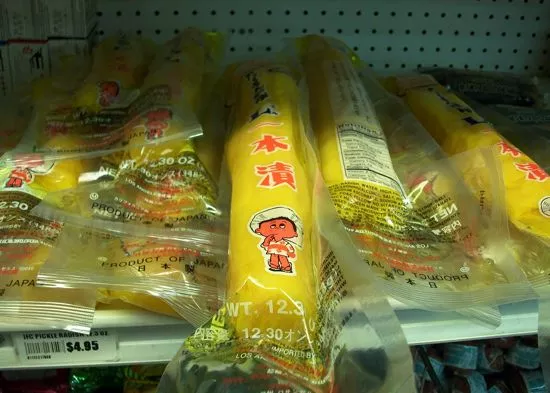 Godzilla's favorite snack, after Michael Pollan's thick shiny skull. | Gut Check photo
​Some people in this big world don't have the bourgeois luxury of either fresh food or the incredibly smarmy Rule #44: "Pay More, Eat Less," which, in short, states that you should be glad to pay $8 for a dozen eggs. Tell that to the guy searching for 69-cent ramen noodles, which is 30 cents over the going rate, but mostly: Fuck Michael Pollan.
Michael Pollan's 2007 best seller The Omnivore's Dilemma documented the industrialization of the world's food supply and whipped the foodie vanguard into a self-righteous froth. His encore, the "Manifesto" In Defense of Food, revealed the author as a proselytizing zealot/minimalist poet ("Eat food. Not too much. Mostly plants."). Then, in 2009, came Food Rules, an "Eater's Manual" of 64 pedantic edicts whose presumption will cause angry boils and cuss words to flare up in those who resent cultural fascism in any form.
This series of weekly blog posts, written by Gut Check contributor Suzy Rust, is for the free-thinking few...
See also: - Breaking the Food Rules at Hit-N-Run - Breaking the Food Rules at Crest Bowl - Breaking the Food Rules at Old St. Louis Chop Suey - Breaking the Food Rules at "Winter Blows" Swap Meet & Bike Show