Bennett Christofferson is a five-year-old who only eats cheese and wants to be a chef when he grows up.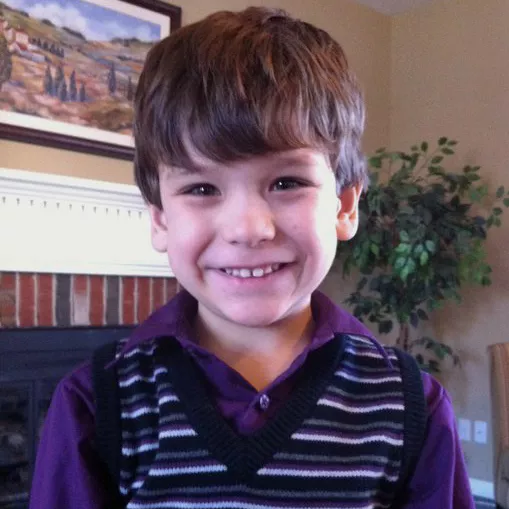 Holly Fann
Meet Bennett, the kid who only eats cheese.
His mom, Jenn, wrote about her son's persnickety eating habits for a contest sponsored by Sara Lee Deli. The prize: a visit to their Ballwin home by chef Alex Guarnaschelli, executive chef of Butter Restaurant in New York and Food Network personality.
The visit commenced with a trip to Schnucks, where Guarnaschelli offered suggestions --like rolling a piece of Sara Lee deli meat around a piece of cheese for Bennett instead of his regular-old naked cheese. Another: Naming a dish after a superhero or favorite character might make it more appealing.
Back at the Christoffersons, Sara Lee staffers buzzed about, ripping open packages of Sara Lee pre-cooked, pre-sliced meats, Sara Lee cheeses and Sara Lee breads while a film crew (hired by Sara Lee) set up high-definition cameras and news reporters and photographers milled around. Bennett and his brother used the downtime constructively, playing space alien and Nintendo.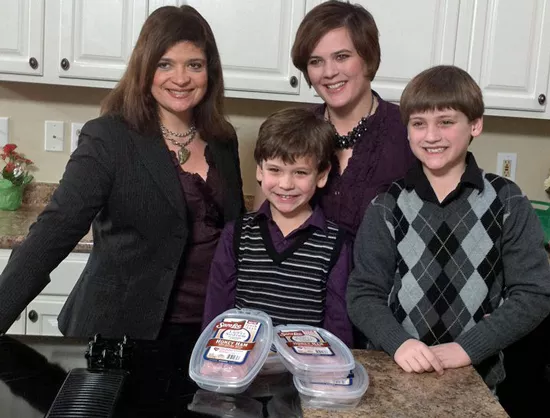 Holly Fann
Chef Alex Guarnaschelli (at left), the Christoffersons and...meat.
When the cameras got rolling, Guarnaschelli offered her thoughts on how to get picky kids like Bennett to fill their pieholes with substances other than cheese. "We would like it if our kids ate kale and seaweed, but that's not going to happen," she said, and she proceeded to create an assortment of cheese-and-meat-between-slices-of-white-bread variations. Throughout the process, Bennett maintained a level of frisky five-year-old enthusiasm as he was offered ham and cheese, turkey and cheese, and cheese and cheese combinations. Was it the same old thing? Sure it was. But having a high-definition video camera, multiple reporters and a Sara Lee Deli staff beaming down upon you makes anything go down easier.
Holly Fann
Bennett Christofferson snarfs Sara Lee Deli meats en route his [first] fifteen minutes of fame.