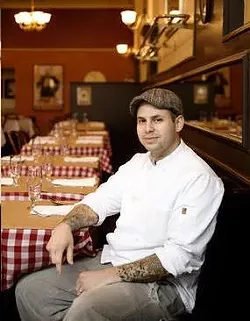 Jennifer Silverberg
Gerard Craft at Brasserie by Niche
Gerard Craft
will not relocate his flagship restaurant
Niche
to the adjacent
Taste by Niche
space, made available by the relocation of Taste to the Central West End, nor will he open an Italian restaurant in its place, the James Beard Award-nominated chef revealed exclusively to Gut Check this afternoon.
In addition, Niche will retain its established format and not shift to a one-seating, tasting-menu-only concept.
The relocation of Taste and its sale to Adam Altnether
will proceed as planned.
"We got a lot of pushback from our clientele, especially our regular clientele," Craft explains. While these regulars didn't object to his plan in total, they did balk at his "changing the creative side [of Niche] to something that would seat only twelve people and be pretty expensive."
Craft admits, "Maybe that's something I should've known all along and didn't pay attention to."
Practical business considerations also played into Craft's decision. Since announcing that
he would turn the Niche space into a restaurant, called Porano, focusing on the cuisine of northern Italy
,
Truffles
in Ladue has revealed plans to change its menu to similar fare, while
Jim Fiala
has brought the rustic Italian menu of his Maplewood restaurant
Acero
to his downtown venture, the
Terrace View
.
"I don't want to be the third northern Italian restaurant opening in January or February," Craft says. "Hopefully, it's not all for nothing -- hopefully [the Porano concept] gets to be used again -- but I'm not going to open a restaurant just to save face."
While acknowledging that his change of plans could be a "press catastrophe," Craft stresses that he is not simply falling back into the status quo ante at Niche: "Honestly, I've been in the [Niche] kitchen more than ever recently. We have a pretty solid chef at
Brasserie by Niche
-- it's one of the reasons I'm [now] only an investor in Taste.
"I'm very young I need to be in the kitchen every day pushing myself and my staff -- pushing more than we ever have."
Still, he adds, "These are rough times, and as we keep pushing and trying to reinvent ourselves, sometimes you can go a little too far. You have to be careful."
Among the changes planned for Niche in 2011 are a seven-day-a-week schedule. Monday, the one day a week when the restaurant is currently closed, will feature what Craft describes as a "supper kind of deal," with more comfort-oriented foods.
The restaurant also might add what Craft terms "a chef's counter" to showcase the longer, more experimental tasting menus as the relocated Niche would have.
To fans of Niche and his cooking, Craft says, simply, "I hope they don't lose faith in everything we're trying to do."