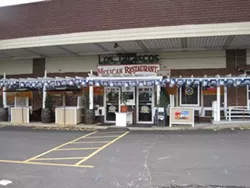 Ian Froeb
Taqueria los Tarascos to become El Porton
Taqueria los Tarascos
in Woodson Terrace soon will change its name to
El Porton Mexican Restaurant
. And by soon, I mean maybe before I finish writing this blog post. When I drove past yesterday afternoon, workers had already put up the ON MEXICAN RESTAURANT part of the new EL PORTON MEXICAN RESTAURANT sign.
According to the employee with whom I spoke, the menu will be somewhat different and "better." At the moment, the restaurant is still serving the Tarascos menu. More details on the new stuff as I learn them.
Regular readers might remember that Tarascos, which I gave
a very favorable review
in 2008,
revamped its menu at the beginning of the year
.