Welcome to Spice World, in which Gut Check zeroes in on overlooked spices from around the globe, introducing those you may not own -- and probably should.
History: Lest you feel sorry for fenugreek -- its stock overflowing at Whole Foods while its alphabetical neighbor, fennel, is sold out, and its abbreviation on the receipt (GRNDFNGRK) looking every bit the name of an underpopulated town in Poland -- and lest you think its best days were back in antiquity when its medicinal properties were cherished as a fever reducer and, in Egypt, as an embalming agent, take heart.
"Fenugreek! That's what makes your breasts better!"
That's what you might hear.
That's what we heard, anyway, when a friend noticed our shopping list.
Turns out it's true: Doctors prescribe fenugreek in pill form to help stimulate milk production in new mothers. It also got a name-check in Savage Love, which resulted in the most press the plant has probably ever known. (Come to think of it, that's where our friend read about it!)
Today: Foenum-graecum, its Latin name, translates as "Greek hay." Besides lending protein to vegetarian diets, it can be used as a yellow dye, to replenish the soil with nitrogen and to treat respiratory and skin ailments. Fenugreek calls the Mediterranean home, though the plant is also grown in the Middle East, India and South America.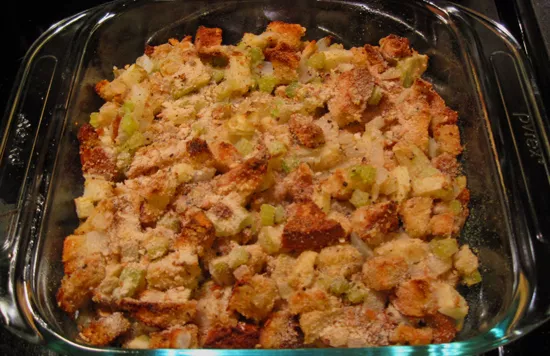 Kristie McClanahan
Easy on the fenugreek, fellow stuffing enthusiasts -- a little goes a long way!
In Use: Raw fenugreek is too bitter to be of much culinary use, but its dried leaves, sprouts and seeds (crushed or in powder form) can be found in Egyptian, Indian and Ethopian dishes; an Internet search easily turned up a recipe for fenugreek stuffing (pictured). Though the dish seemed pretty labor-intensive for the few servings it yielded, the pale yellow spice does provide a nice complement to the celery and, when it's cooking in the oven, releases a positively nutty-sweet, fall-like aroma. But use a light hand with the stuff: Eyeballing it without measuring could render a dish bitterly inedible.
This spice isn't one that will get much mileage, but if you happen to be a vegetarian or have a partner with a very specific turn-on, it might be worth keeping in the pantry.
We found ground fenugreek at Whole Foods (1601 S. Brentwood Boulevard, Brentwood; 314-968-7744) in a two-ounce jar for $4.49.