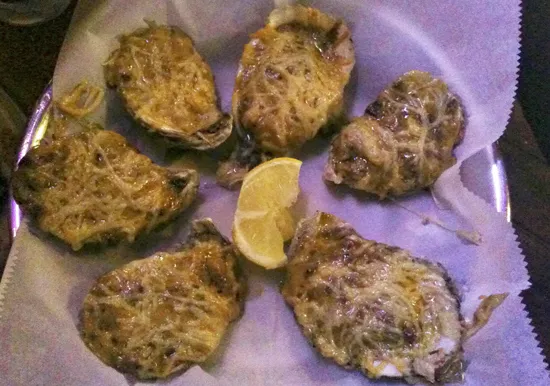 Kholood Eid
Oysters Bienville: Feeling randy yet?
The night began auspiciously, with the Cure's "Friday I'm in Love" on the car radio. How better to set out for a Dinner and a Movie that commenced with shellfish at the Broadway Oyster Bar and move on to a screening of Love and Other Drugs, starring Anne Hathaway and Jake Gyllenhaal? Oysters and Viagra -- I'd be in aphrodisiac heaven.
I was pumped!
When our server arrived at our table, I confided that I was an oyster virgin. He recommended I go with Oysters Bienville. That way, he sad, I'd be able to taste the oysters, but because they're cooked, the flavor -- and the texture -- would be subtler.
Um, OK.
Only it wasn't. I soon found myself confronting six baked oysters on the half-shell, topped with spicy shrimp, Parmesan and a mushroom cream sauce. I scooped one up. It looked appalling. The object dangling from my fork resembled a fetus.
I took a bite.
Oozy. The Parmesan and garlic flavors were reminiscent of a Buffalo Wild Wings sauce, so I tried to focus on that while I chewed. Trouble was, chewing made me taste the actual oyster. I resolved to swallow the rest of the little critters whole.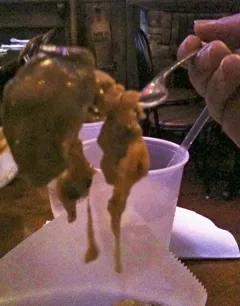 Kholood Eid
Submitted for your approval: Don't this here oyster look, you know, fetusy?
I got through three. Fortunately we'd ordered a mess of Voodoo Wings, fried and tossed in a Cajun tequila hot sauce, as an appetizer, just in case. Much, much better, but their sauce was no match for the oysters' lingering brine. Ditto my dining mate's seasoned fries. A fruity cocktail, the "Big Easy," helped, but even as we were parking at the theater I still had oyster on my breath. (Perhaps I should have gone with the "Horny Gator" like the gaggle of gals at the next table.)
I'm here to tell you, though, oyster liquor was the nectar of the gods compared to the aftertaste of Love and Other Drugs.
Set in the 1990s, the plot concerns Pfizer rep Jamie (Gyllenhaal), who spends half his time pushing Zoloft and Viagra and the other half boinking like a bunny. Then he meets Maggie (Hathaway), who's as horny as he is, and as commitment-averse to boot, but with good reason: She has -- cue the string section -- Parkinson's disease.
The film and its characters meander around for 112 minutes (which feel more like 127 hours), until, eventually, shuffling off to a predictable conclusion. The sex is exhausting to watch at times, as is the camera work. During the film's (nonsexual) epiphany, the camera cut so choppily back and forth between close-ups of the two lovers that I feared I'd re-experience my oysters in the other direction.
Love's most compelling interlude takes place not in the sack but at a convention where people with Parkinson's speak about their experiences. The scene is everything the movie tries and fails to achieve: Funny, but tinged with a vulnerable, sobering reality that reflects the way people deal with life's treasures and travails.
Good gracious, there's a lot of sex in this movie. And a lot of Anne Hathaway's bare bod -- I don't know if it's just the big screen, but I never noticed how, um, curvy she is). Between the screen action and the oysters, who'da thunk I'd go home turned off?