Welcome to Girl Walks into a Bar, a weekly Gut Check feature that spotlights local bars and bartenders. This week Alissa Nelson profiles Chez Marilyn bartender Jacob Scarborough. Below is a Q&A with Scarborough, followed by a video of him mixing an Almond Joy martini.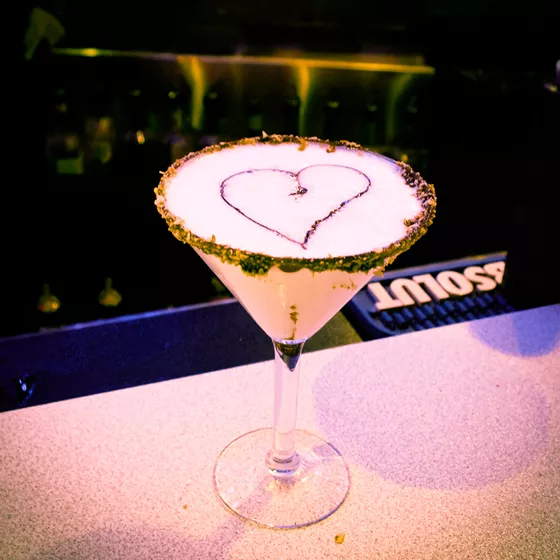 Alissa Nelson
Wouldn't you just LOVE an Almond Joy martini?
Getting a haircut is a stressful experience, particularly if you suffered from the indignities of a curly-haired adolescence in the early '90s. A stout dose of liquid courage, it stands to reason, is a logical prelude to a grown-up date with a pair of scissors. Therein lies the genius of Chez Marilyn, a cute little mashup of bar and salon in Alton's quaint downtown. (Anyway, after a few drinks, the distinction between "saloon" and "salon" begins to blur.) The salon has been a fixture for 30 years, and while the bar has only been in operation for 10 of those, it has the vibe of a cozy neighborhood haunt, a place where regulars stop by to unwind after a tough day on the job.
Bartender Jacob Scarborough has been kicking around Chez Marilyn since the early days of the bar, where his mother tended before him. "I came down to help stock and make sure she got home safely," he recounts. "Then they had an opening right after I turned 21, and they asked if I wanted to be a bartender."
Conveniently, Scarborough had been mixing a cocktail here and there at the restaurant where he'd been working. But that was no preparation for his first night Chez Marilyn. His first order was for a manhattan, a trial by fire for a new bartender. "I'd never made a martini prior to that night," he adds.
He has made plenty since.
Click through to watch a video of Scarborough mixing an Almond Joy martini...
In three words, describe your bartending style. Entertaining, creative and confident.
Favorite drink to drink? It's a simple drink, but a Red Stag Sweet Press [Jim Beam's cherry-flavored whiskey] or a good IPA in a pint glass.
Favorite drink to make? The Almond Joy martini -- this is a nice dessert cocktail. Since women usually order it, I like to draw a heart on top with chocolate syrup. If they're with a guy, I draw a broken heart instead.
Drink you hate making? I really love making all drinks, but one that sometimes gets on my nerves is a mojito. It's fun to make, but for some reason people always ask for it when I'm extremely busy, like at our summer block parties. And it's never just one -- more like eight in a row.
Favorite drink you created yourself? The Snickers martini. I'm sure there are other Snickers martinis out there, but this is my favorite candy bar, so I decided to make my own version. It's vanilla vodka, Frangelico, white Godiva liqueur and butter schnapps. Then I use chocolate and caramel to decorate the glass before I put it in.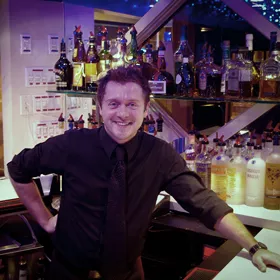 What is the worst drink you've ever had? My best friend Steve Case was bartending one night, and the waitress asked for "a 43 and half and half." He wasn't sure what that was, so he asked me, and all I could think of was 1843 whiskey. The waitress immediately came back up to the bar and said the customer took one look at it and knew it wasn't the right drink. Steve and I did as any good bartender would do, decided there wasn't any reason to waste the alcohol, and drank the drink as shots. It was the worst drink, even worse than a Concrete Mixer.
Favorite nonalcoholic drink? Coffee, for sure. I think I started drinking it in the womb. Dad didn't know about this, but Mom let us have coffee at a young age. This is probably why I'm only five-nine. Thanks, Mom.
Favorite drinking ritual? Doing shots with good friends: Hold the shot up high, make a toast with everybody's glasses touching, banging the drink on the bar and then shooting it. There's always somebody who ends up drinking before the ritual is complete, though -- not cool.
What do you drink when you're...On a plane? Vodka-tonic, to calm the nerves.
...At a wedding? Keg beer. It's free but I hate the hangover.
...At your parents' house? Whatever is in the fridge -- usually Keystone Light in a wine glass. It's Mom's favorite -- classy!
...Trying to get drunk? American Honey...stay away from mee-hee! Favorite canned beer? SKA Modus Hoperandi IPA. You can get it at the International Tap House. I've only tried it a few times, but it's amazing.
Worst/best thing you've ever seen happen in your bar? We don't usually have fights here, but the worst thing that happened was after one of our block parties. I was escorting some co-workers to their car and this drunk guy was insisting that they give him a ride. I was making sure that they were inside safely and he sucker-punched me. He cut my lip, and my tooth was wiggling.
How do you keep yourself occupied on a slow night? As long as I have one person in the bar, I'm happy and content. It usually invites some good conversation that both of us need and enjoy.
Who would you most like to have a drink with? My Grandpa Snuffy, who passed away when I was young. I never got the chance to hang out with him as an adult. His drink was a PBR. Any guy with the nickname Snuffy has to be a pretty cool guy.
Where are you most likely to be found when you're not in this bar? Most of the time I'm at my house -- I just bought it last year and I've been remodeling it. Or I'm right down the street at this place called the Ragin' Cajun -- great beers, good food, dueling pianos. Or spending time with my family.
Best hangover cure? A 90-year-old monk once told me that the best cure for a hangover is an ice-cold can of Budweiser. All joking aside, it's a very good cure. Where's my money, InBev?
Most unusual liquor you've ever seen? I've never tried it, but it's a bottle of vodka and there's an entire fruit -- like an apple or a pear -- inside the bottle.
If you could start a band, what kind of band would you start? I think it'd be a blues band, but I wouldn't be any part of it. I'd just be the manager.
Best/worst drinking holiday? Worst: Mardi Gras. The last time I went to Soulard, there was a woman going around going "Free kisses! Free kisses!" It just seems like all of the amateur drinkers are out. Best: night before Thanksgiving. It's the biggest drinking holiday of the year -- and you can really make some money.
Biggest tab you've ever seen? A group came in and told me they wanted to stop the tab at $500. I let them know when it got there and they kept the tab open, finally closing it at $1,200. Alcohol sets you free -- or your wallet free.
Drunk food of choice? Cold, leftover Castelli's Moonlight fried chicken.
Three adjectives that describe your bar. Classy, friendly, blue.
My bar is the only bar in St. Louis where... You can have a cocktail while getting your hair done. Hence the saying: "Liquor in the front, hair in the back."