Robin Wheeler
"It's a Small World," by St. Charles West High School
Who wants to go to the mall right now? It's noisy, crowded, and filled with garishness in the name of Baby Jesus that sucks the joy right out of the season.
Except for Plaza Frontenac for the next few days. Since November 20 they've been hosting the fourth annual Lydia's House Gingerbread House Contest. Across from Sur La Table in the Neiman Marcus wing stand twenty gingerbread houses made by local pastry professionals and students. This year's theme of "It's a Small World" inspired bakers to be transported to holidays in Venice, Paris, South Africa and villages encompassing the breadth of humanity in pastry and icing.
Lydia's House isn't made of aromatic bread, but it's no less sweet. It's a transitional housing service for women and children who've survived domestic violence, a problem that tends to increase with the stress of the holiday season. Unlike emergency shelters, which help get women out of dangerous situations but can only able to provide housing for a month or two, Lydia's House provides time and resources for survivors to find permanent housing, and the resources they need to start over without returning to their abusers.
To see more houses, click on through...
Standout entries in the independent professional pastry category include Janie Moore's traditional Santa's workshop, Pat Keim's intricate re-creation of Venice's Bridge of Sighs and canals and Jaleen Neumann's towering Empire State Building complete with hard-candy windows and a Santa-hatted candy King Kong clinging to the lightning rod.
Robin Wheeler
"Santa's Workshop," by Janie Moore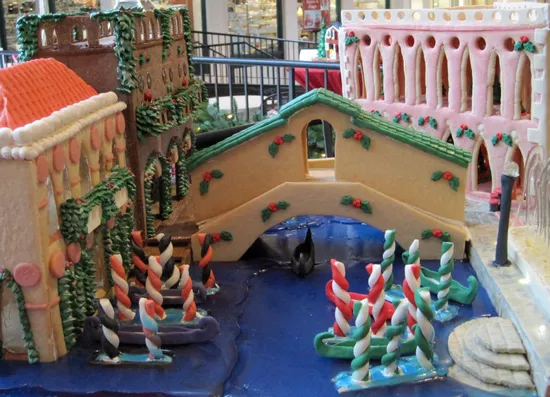 Robin Wheeler
"Venice, Italy," by Pat Keim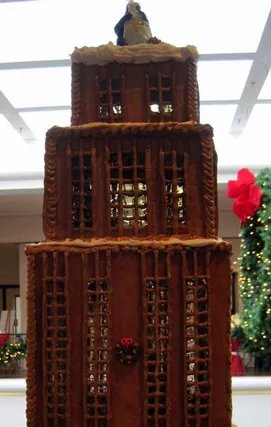 Robin Wheeler
"Empire State Building," by Jaleen Neumann of Cakes by Jaleen
In the professional category, Onesto pastry chef Sally Sciaroni created Holiday in Russia with a massive onion-domed cathedral, while Kendele Noto of J. Noto Italian Confections went with Italy's Positano Church, complete with a welcoming pontiff at the door. The chef instructors at L'Ecole Culinaire crafted a South African celebration with adorned celebrants gathered around a hut whose roof is made of thatched phyllo shreds.
The high school kids embraced the diversity of celebrations. Parkway North High built the "The Land of the Holidays" with individual houses representing Christmas, Hanukkah, Kwanzaa and New Year's Eve, while the St. Charles West team built small houses for the corners of the earth in "It's a Small World." Lafayette High went literal with the theme in "Holidays Around the World."
Robin Wheeler
"Poitano Church," by Kendele Noto of J. Noto Italian Confections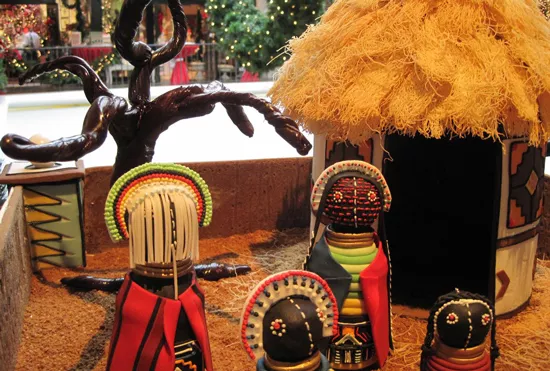 Robin Wheeler
"South African Celebration," by the chef instructors at L'Ecole Culinaire
Robin Wheeler
"The Land of the Holidays," by Parkway North High School
Robin Wheeler
"Holidays Around the World," by Lafayette High School
The houses are on display through tomorrow (Saturday, December 5). The awards ceremony will be held at 2 p.m. that day, with prizes bestowed for people's choice and professional vote. If you can't make it to Plaza Frontenac to cast your vote, you can vote via Lydia's House's Facebook page.
But you won't get the pleasure of the embracing gingerbread scent of comfort and home.
Editor's note: Frequent Gut Check contributor Robin Wheeler participated in the judging of this year's contest.