This is part one of Holly Fann's Chef's Choice profile of Agi and Aaron Groff of 4 Seasons Baked Goods & Catering. Part two, a Q&A with the Groffs, is available here. Part three, a recipe, can be found here.
Holly Fann
Agi Groff takes a torch to a batch of ganache-covered tarts as husband Aaron looks on.
Agi and Aaron Groff of 4 Seasons Baked Goods & Catering communicate in a sort of silent language. They move easily past each other within the tiny confines of the open kitchen behind the counter of their new St. Charles shop, never bumping elbows, never even speaking over each other when chit-chatting with customers. Quietly sleeping in a corner of the shop in her car seat is Alina, their newborn daughter. Often they will make eye contact when passing each other and smile, and when you do hear them both at the same time it is the sound of their shared laughter.
Yep, the Groffs have got this "working with your spouse" thing down.
Agi grew up in Germany, where great pastry and small neighborhood bakeries are the norm. Aaron, a St. Louis native, watched as chains took hold, replacing neighborhood shops with cookie-cutter clones.
"We want to bring back the neighborhood bakery -- the family-owned type, " Agi says.
The two met while both were enrolled at the prestigious Culinary Institute of America in upstate New York, where they were taught the exacting foundation to the art of baking. By the time they graduated they were married -- and had reached the point where they could trust their instincts to tweak existing recipes and develop original ones of their own.
Following stints in Baltimore, New York City and Amelia Island, the Groffs settled on Aaron's home turf and began selling tarts, cakes, pastries and savories at St. Louis-area farmers' markets. A shop was the inevitable next step; they opened the doors of their storefront in St. Charles in September.
The shop has an air of modern European charm and simplicity, with a large handwritten chalkboard displaying the day's offerings. An expansive antique pastry case sets off the front of the bakeshop from the area where the work gets done, agleam with silver trays and porcelain cake stands piled with individual tortes, brownies and quiches, not to mention Agi's Springerle cookies (a traditional German holiday treat) and the Groffs' totally addictive mocha and coconut macaroons. Her hands dusty with pastry flour, Agi greets customers as soon as the bell on the front door announces their arrival, and Aaron musters a "hey, how are you today?" from behind the counter as he makes ganache, rolls out tart dough or throws water into one of the convection ovens to create the rolling waves of steam that impart a perfect crust.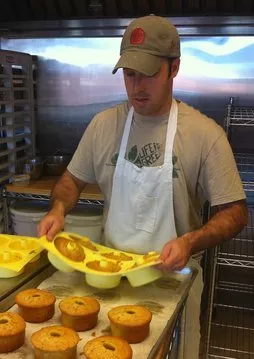 Warm hugs are exchanged with regular customers, along with countless cuddles of newborn Alina. New items, often featuring seasonal produce, are described to eager ears. Caramel apple sticky buns, the latest fall goody, are snatched up in practically no time.
Evidently, though, the neighborhood is still getting used to the notion of a small-scale, family-run bakery. "We have people come in here every day and ask for a dozen doughnuts," Aaron recounts. "That's just not what we do. We're a bakery! We bake!"
The mixed-berry quick breads are finished baking. They emerge from the oven, filling the shop with a tart, buttery warmth.
Agi patiently answers a new visitor's litany of questions. Aaron chimes in with a joke as he glazes a batch of lavender cakes.
Yep, the Groffs have got this "neighborhood family bakery" thing down.