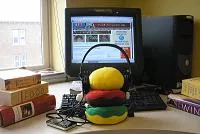 Gut Check dishes on our favorite St. Louis food blogs.
Rhubarb and Honey: Kimberly posted a Thanksgiving recipe recap.
One Hot Stove: Nupur live-blogged Thanksgiving Day, and shared a recipe for Chocolate Espresso Pecan Pie .
Sounding My Barbaric Gulp: Kelly posted a list of favorite Thanksgiving recipes.
STL Hops: Mike posted a Friday St. Louis Beer Round-Up.
Off the Menu: Joe reported on Central Cafe, now open in the Central West End.
St. Louis Eats and Drinks: The Pollacks visited Eclipse.
Relish: George reported on a shake-up in the ownership at Boogaloo.
Iron Stef: Stephanie discussed health, happiness and food.
Sauce: Ligaya shared details on tequila dinners at Espinos.
Cupcake Project: Stef shared five Thanksgiving cupcake ideas.