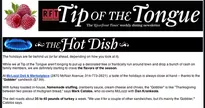 Sign up for Tip of the Tongue here.
Gut Check not providing enough dining tidbits for you?
Consider subscribing to Tip of the Tongue, the Riverfront Times' weekly e-mail dining newsletter.
In this week's edition, learn about holiday cooking classes at Dierbergs' School of Cooking and find out how you could get your family's favorite chili recipe on the menu at Fountain on Locust.
Subscribing is easy. Visit this page, enter your e-mail address and sign up for Tip of the Tongue as well as (if you wish) our weekly music and events newsletters.