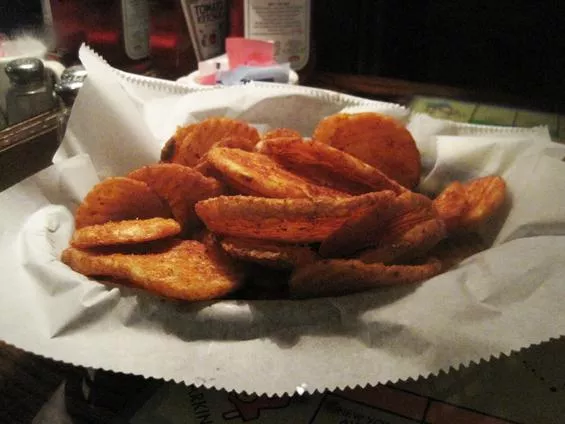 Ian Froeb
The Buffalo fries at Blueberry Hill
What? You thought I'd make it through this list without a stop at Blueberry Hill? My office is right down the street. I've probably eaten here more often than at any other restaurant in the seven and a half years I've lived in St. Louis. The only surprise, I guess, is that I didn't pick the burger.
I do like the burger here -- more, I suspect, than many of my fellow burger aficionados do. But I wouldn't classify it as one of my favorite burgers in town.
What I do love, without reservation or shame, are the Buffalo fries. So called because they pack some heat -- though they don't, to me at least, taste anything like traditional Buffalo wing sauce -- the fries are just a terrific snack, starter or side dish: crisp, salty, spicy and, yeah, a little greasy.
Because I'm a patriot, I order ranch dressing on the side.
Blueberry Hill
6504 Delmar Boulevard, University City
314-727-4444
$3.50 (small), $6.50 (large)
I'm counting down -- in no particular order -- 100 of my favorite dishes in St. Louis. Some are well-known, others obscure. Some are expensive, others dirt cheap. All of them, I guarantee, are delicious. Please do not hesitate to share your own favorites via the comments thread.
Previously:
#37: Tom yum gai at Pearl Café
#38: Cassoulet (and Sweetbreads) at Franco
#39: The "Papasan Roll" at Miso on Meramec
#40: Lasagna at Mama Josephine's
#41: The "Bucktown" Pizza at Pi Pizzeria
#42: Pla song kruang at Basil Spice Thai Cuisine
#43: Chori pollo at Mi Ranchito
#44: Pizza at La Pizza
#45: Fried chicken at Young's Restaurant & Ice Creamery
#46: The Philly Cheesesteak at 9th Street Deli
#47: Smoked chicken wings at Flavors BBQ Sports Bar & Grill
#48: Coffee and a pastry at 222 Artisan Bakery
#49: The torta ahogada at Taqueria Durango
#50: The "Morganford Mediterranean" Sandwich at Local Harvest Café & Catering
Previously (Continued):
#51: Vegetable korma at Gokul Snacks & Sweets
#52: Schnitzel & spaetzle at Iron Barley
#53: Oxtail stew at De Palm Tree
#54: Pho at Pho Long
#55: Gyro at Anthonino's Taverna
#56: The Lemon Drop Cupcake at the Cup
#57: Pupusas at Tres Banderas
#58: Gumbo at the Gumbo Shop
#59: The burger at Newstead Tower Public House
#60: Quesadillas tradicionales at Milagro Modern Mexican
#61: "7th Street Sicilian" Po' Boy at Blues City Deli
#62: Tamales at Taqueria la Pasadita
#63: Ćevapi at Bosna Gold
#64: Lemon meringue and pine nut torte at BitterSweet Bakery
#65: Chile Morita con Puerco at Señor Pique
#66: Soda chanh duong (sparkling lemonade) at Lemon Grass
#67: Nachos grande at Nachomama's
#68: Pizza with pepperoni, sausage and mushroom at Pizza-a-Go-Go
#69: Bill's "Burger Meister Burger" at Cardwell's at the Plaza
#70: Sake (salmon) nigiri sushi at Nobu's Japanese Restaurant
#71: Massaman curry at Simply Thai
#72: The lunch buffet at Mayuri
#73: Fried chicken (spicy) at Porter's Fried Chicken
#74: Arancini at Lorenzo's Trattoria
#75: Meat shawarma at The Vine Mediterranean Café & Market
#76: The South Side Smoke at sandwich at Stellina Pasta Café
#77: Falafel at Kabob House
#78: A slice with pepperoni at Feraro's Jersey-Style Pizza
#79: Birria at Pueblo Nuevo
#80: Banh mi dac biet at Phuc Loi
#81: Prosciutto bianca pizza at the Good Pie
#82: Gold Coast Chocolate ice cream at Serendipity Homemade Ice Cream
#83: Hot salami (salam de testa) at Gioia's Deli
#84: Veal parmesan sandwich at Biggie's
#85: Nachos (with jalapeños and extra cheese cup) at Busch Stadium
#86: Lobster bisque at Café Ventana
#87: Calamari fritti at Mangia Italiano
#88: Brisket sandwich at Winslow's Home
#89: Paletas at La Vallesana 2
#90: Spaghetti and meatballs at Sugo's Spaghetteria
#91: The Michael burger at Michael's Bar & Grill
#92: Fried egg and ham toastie at the Schlafly Tap Room
#93: Bavarian chips with Welsh rarebit at Dressel's
#94: Onion soup at Brasserie by Niche
#95: Baby-back ribs at 17th Street Bar & Grill
#96: Kingshighway burger at the Royale
#97: Gyro sandwich at South Grand Gyro Express
#98: Carne asada tacos at El Paisano (Watson Road)
#99: Pretzel bites at Joey B's on the Hill
#100: Hot and sour soup at Shu Feng Restaurant