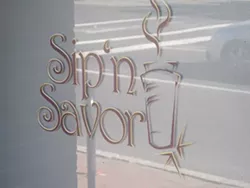 Thanks to one of Gut Check's regular readers for passing along this information:
Sip 'n Savor
, a coffeeshop, is now open at 286 DeBaliviere Avenue, right by the Forest Park MetroLink stop. Sip 'n Savor is open from 7-11 a.m., according to the hours posted on the front door. (No days were posted, though.) I arrived this afternoon, so it was closed, but the menu I glimpsed through the window shows the usual range of coffee and espresso drinks.
This address was previously home to Velocity Café & Cyclery. Again, because Sip 'n Savor was closed when I stopped by, it was difficult to see how much of the old (large) Velocity space this new venture has occupied. It appears to be most of the space, yet some of that area lacks any furniture.