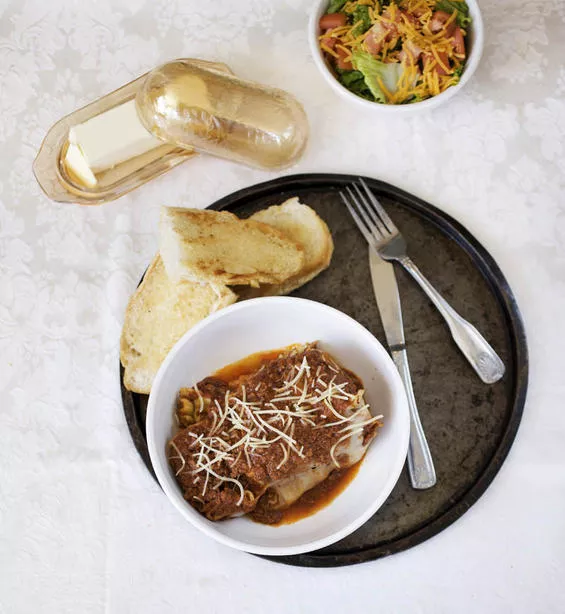 Jennifer Silverberg
The lasagna at Mama Josephine's
Since opening in March, Mama Josephine's has ascended into the upper echelon of my favorite comfort-food spots. Fried chicken, meatloaf, catfish: It's all good. But nothing is quite as impressive as the lasagna.
The lasagna is served in a large bowl, as sure a sign of any of its serious intent. There are eight layers, though you will likely be too busy digging into the gravy-thick meat sauce -- simmered for eight hours -- to bother counting. The proportions are key here: The lasagna does not swim in its own sauce, nor do the noodles overwhelm everything else with their floppy blandness. There is exactly enough soft, sweet ricotta, precisely enough melted mozzarella.
(from
"Oh, Mama!"
July 22, 2010)
Mama Josephine's
4000 Shaw Boulevard
314-771-4001
$8.99 (includes garlic bread and salad)
I'm counting down -- in no particular order -- 100 of my favorite dishes in St. Louis. Some are well-known, others obscure. Some are expensive, others dirt cheap. All of them, I guarantee, are delicious. Please do not hesitate to share your own favorites via the comments thread.
Previously:
#41: The "Bucktown" Pizza at Pi Pizzeria
#42: Pla song kruang at Basil Spice Thai Cuisine
#43: Chori pollo at Mi Ranchito
#44: Pizza at La Pizza
#45: Fried chicken at Young's Restaurant & Ice Creamery
#46: The Philly Cheesesteak at 9th Street Deli
#47: Smoked chicken wings at Flavors BBQ Sports Bar & Grill
#48: Coffee and a pastry at 222 Artisan Bakery
#49: The torta ahogada at Taqueria Durango
#50: The "Morganford Mediterranean" Sandwich at Local Harvest Café & Catering
#51: Vegetable korma at Gokul Snacks & Sweets
#52: Schnitzel & spaetzle at Iron Barley
#53: Oxtail stew at De Palm Tree
#54: Pho at Pho Long
#55: Gyro at Anthonino's Taverna
#56: The Lemon Drop Cupcake at the Cup
#57: Pupusas at Tres Banderas
#58: Gumbo at the Gumbo Shop
#59: The burger at Newstead Tower Public House
#60: Quesadillas tradicionales at Milagro Modern Mexican
Previously (Continued):
#61: "7th Street Sicilian" Po' Boy at Blues City Deli
#62: Tamales at Taqueria la Pasadita
#63: Ćevapi at Bosna Gold
#64: Lemon meringue and pine nut torte at BitterSweet Bakery
#65: Chile Morita con Puerco at Señor Pique
#66: Soda chanh duong (sparkling lemonade) at Lemon Grass
#67: Nachos grande at Nachomama's
#68: Pizza with pepperoni, sausage and mushroom at Pizza-a-Go-Go
#69: Bill's "Burger Meister Burger" at Cardwell's at the Plaza
#70: Sake (salmon) nigiri sushi at Nobu's Japanese Restaurant
#71: Massaman curry at Simply Thai
#72: The lunch buffet at Mayuri
#73: Fried chicken (spicy) at Porter's Fried Chicken
#74: Arancini at Lorenzo's Trattoria
#75: Meat shawarma at The Vine Mediterranean Café & Market
#76: The South Side Smoke at sandwich at Stellina Pasta Café
#77: Falafel at Kabob House
#78: A slice with pepperoni at Feraro's Jersey-Style Pizza
#79: Birria at Pueblo Nuevo
#80: Banh mi dac biet at Phuc Loi
#81: Prosciutto bianca pizza at the Good Pie
#82: Gold Coast Chocolate ice cream at Serendipity Homemade Ice Cream
#83: Hot salami (salam de testa) at Gioia's Deli
#84: Veal parmesan sandwich at Biggie's
#85: Nachos (with jalapeños and extra cheese cup) at Busch Stadium
#86: Lobster bisque at Café Ventana
#87: Calamari fritti at Mangia Italiano
#88: Brisket sandwich at Winslow's Home
#89: Paletas at La Vallesana 2
#90: Spaghetti and meatballs at Sugo's Spaghetteria
#91: The Michael burger at Michael's Bar & Grill
#92: Fried egg and ham toastie at the Schlafly Tap Room
#93: Bavarian chips with Welsh rarebit at Dressel's
#94: Onion soup at Brasserie by Niche
#95: Baby-back ribs at 17th Street Bar & Grill
#96: Kingshighway burger at the Royale
#97: Gyro sandwich at South Grand Gyro Express
#98: Carne asada tacos at El Paisano (Watson Road)
#99: Pretzel bites at Joey B's on the Hill
#100: Hot and sour soup at Shu Feng Restaurant