Based on the number of page views, Facebook shares, retweets and comments on the news that Newstead Tower Public House is closing, I thought I would bump this post as a reminder that tomorrow, October 30, is the gastropub's final day.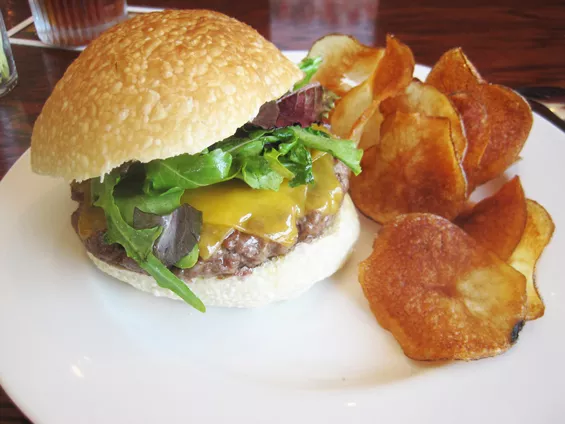 Ian Froeb
The acclaimed burger at Newstead Tower Public House
Sad breaking news:
Newstead Tower Public House
will close after business on Saturday, October 30, owner Anthony Devoti announced in a press release tonight. A small bit of good news:
the restaurant's beloved burger
, which the
RFT
judged "Best Burger" in
2008
and
2010
, will move to the lunch menu at Devoti's other restaurant,
Five
.
I regret to announce the closing of the Newstead Tower Public House in The Grove. The Pub's last day will be Saturday, October 30, 2010. I trust the future of The Grove is sustainable for the other businesses that reside there; we wish them continued success.

We opened in November 2007, introducing the Gastropub concept to St. Louis. We focused on providing our customers with fresh, local, seasonal foods crafted and served with care. We achieved some level of success, earning recognition from the Riverfront Times for "Best Burger 2008 and 2010" and "Best First Date Spot 2010", as well as being featured in local, regional and national publications. My family and staff are proud of what we have accomplished and are disheartened to let it go.

Our family's other restaurant, Five Bistro on The Hill, is open for lunch, Thursday through Saturday and for dinner, Tuesday through Saturday. One of the highlights of the luncheon menu is the award winning grass-fed beef burger. We will also ensure our beer and scotch dinners compliment the bi-monthly wine dinners we're currently hosting at Five.

Please be assured, I will continue to support my local farmers by securing their quality products so I can continue to provide an exceptional meal, reasonably priced and as always, the perfect dining experience for our loyal customers.

Thanks to each of you for your patronage, support, and kind words.

Anthony Devoti

Chef & Owner
This post has been modified from its original version for clarity and to provide additional information.