Welcome to Girl Walks into a Bar, a weekly Gut Check feature that spotlights local bars and bartenders. This is Week 2 of Alissa Nelson's double-feature profile of McGurk's bartenders Ronnie Walters (John D. McGurk's Irish Pub in Soulard) and Charlie Myers (McGurk's Public House in O'Fallon). The profile of Walters can be viewed here. A Q&A with Myers will be posted tomorrow.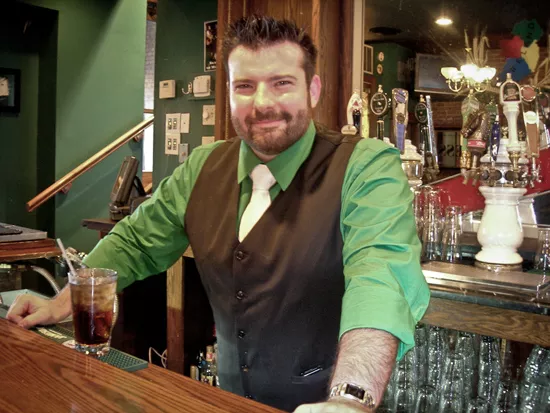 Alissa Nelson
Charlie Myers wants to know what'll ya have!
There are sipping bars, and there are drinking bars. The McGurk's franchise is most certainly the latter.
Last week your Girl ventured to the Soulard location of McGurk's to pit Ronnie Walters against O'Fallon's Charlie Myers in an Irish-inspired-drink competition. This week we bring the two back in for a freestyle round. While the home-bar advantage still rests with Walters, Myers has brought along his secret weapon: a traveling case full of bartending tools and homemade pumpkin simple syrup.
Of course, Myers is coming off of an appearance at Bombay Sapphire's Most Inspired Bartender competition this past August in Las Vegas, where he represented the St. Louis region. Taking his inspiration from our hometown's slow slide into fall, he prepares a Pumpkin à la Mode Martini.
Walters, meanwhile, goes the hometown-heroes route, with the Pujols Martini.
Click through to watch a video of Myers and his cohort Ronnie Walters having their way with a martini...
McGurk's Public House 108 South Main Street, O'Fallon; 636-978-9640
John D. McGurk's Irish Pub 1200 Russell Boulevard; 314-776-8309