You can keep your filet mignon and your foie gras and your pheasant under glass -- when Gut Check feels blue, what we crave is a hot dog.


And while we'll never argue with eating dogs Texas-style (chili and cheese) or New York-style (with mustard and sauerkrat), the hot dog that really gets us going is the one made Chicago style: dragged through a virtual garden of tomatoes, relish, onions and sport peppers, given a dash of celery salt and served in a poppy-seed bun along with a slice of dill pepper. It's messy, salty and utterly delish.
So what's the best place to score one of these pups in St. Louis? We tried two very different locations:
Pam's Chicago Style Dogs
and
Audi-K's
. And while our mouths were torn as the fight dragged on round after round, the verdict was ultimately clear.
On the other side of the jump, the contenders, the battle, and our final decision.
The Contenders


Pam's Chicago Style Dogs
On the day we visited, this pleasant storefront at the eastern edge of the Delmar Loop just happened to be bustling with cops on lunch break. Makes sense, really -- Pam's has an old-fashioned quality that's surely just as appealing to law-and-order types as grannies who remember the way things used to be. There's oldies on the P.A. system, and the menu (listed concession-stand style on a board behind the counter) features desserts from a time when no one cared about cholesterol. Not only is there a deep-fried Twinkie on this roster -- there's an
extreme
deep-fried Twinkie, which evidently includes both caramel and strawberries. You can also get a deep-fried muffin.
Suffice to say, Gut Check had no intention of ordering deep-fried Twinkies or muffins.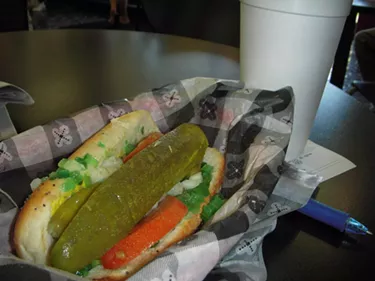 We also eschewed dessert and went straight for the meat. But we were apparently a bit hasty in our order: When our dog arrived, it was dwarfed by all the vegetable matter. If we had this to do over again, we'd be tempted to order Pam's Jumbo Dog or even Pam's Colossal Dog, which clocks in at 1/3 pound for just about a dollar more -- we didn't notice those options on the menu till too late.
Still, despite the wee wiener, we have absolutely no complaints. Our poppy-seed bun was perfectly proportioned, and sufficiently resilient to hold the whole garden of flavor together, and we couldn't help but lick our lips over the wonderfully salty little peppers. The tomatoes, too, were remarkably ripe and freshly sliced. Abetted by a fine dusting of celery salt, the whole here was definitely greater than the sum of its parts. Delicious!
Audi-K's This Central West End shop, while smaller than Pam's, immediately struck us as the more stylish of the two. From the lovingly hand-chalked menu over the register to the walls with their bright washes of orange and blue, this is a place where you could take a date or a visiting niece and nephew. Indeed, strollers were in abundance on the evening we visited, as were attractive coeds.
The tables outside, too, felt a touch more upscale. In front of Audi-K's, you've got a great view of the nightly Euclid Avenue street parade, with plenty of friendly dogs of the living-and-breathing variety eager to come over and say hi. If they were offended by our dinner choice, they certainly didn't let on.

The food, too, is a bit more frou-frou than Pam's. We were blown away by the bun on our dog -- amazingly soft and ample, it bore a distinctly fresh-from-the-oven taste.
But that bun proved to be our dog's undoing. No poppyseeds, for one thing. And while it tasted good, it was a case of too much of a good thing. Worse, it failed to stand up to the hot dog it cradled. Quel dommage! Half of our dill pickle ended up on our tray! And unlike Pam's dog, the lingering taste from this dog wasn't charred meat or sharp peppers; it was bun. Add in the fact that the friendly young woman who dished up our dog omitted the celery salt, and we found ourselves recalling Pam's dog with some nostalgia.

For the record, Audi-K's specializes in New Orleans-style shaved ice, and it also serves up those divine Billy Goat chips (including a decadent nacho plate -- yum). And Audi-K's signature dog, featuring a fascinating-sounding mélange of cream cheese, grilled onions and cucumbers, irresistibly beckons us back for more.
The verdict
Audi-K's scores major points for atmosphere and them there Billy Goat nachos. But when it comes to the classic Chicago dog, we gotta side with Pam's.
Audi-K's
235 North Euclid Avenue; 314-361-0270
Pam's Chicago Style Dogs
6016 Delmar Boulevard; 314-721-7267