Welcome to Girl Walks into a Bar, a weekly Gut Check feature that spotlights local bars and bartenders. This is part one of Alissa Nelson's double-feature profile of McGurk's bartenders Ronnie Walters (John D. McGurk's Irish Pub in Soulard) and Charlie Myers (McGurk's Public House in O'Fallon). The next installment, a Q&A with Walters, will be posted tomorrow.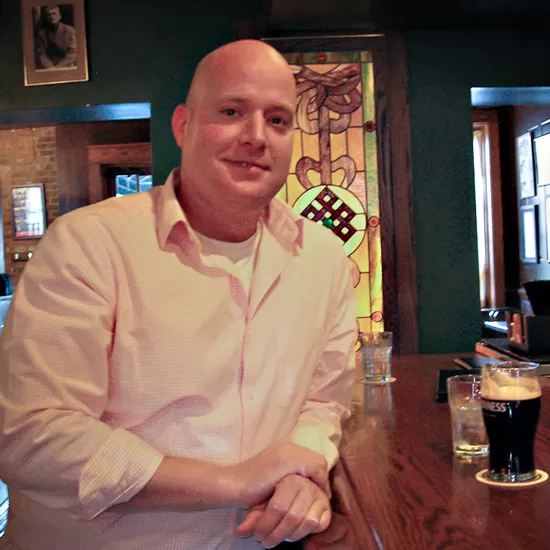 Alissa Nelson
A fine "what'll you have" to bartender Ronnie Walters of John D. McGurk's Irish Pub in Soulard.
What happens when you put together bartenders from one of Soulard's most expansive pubs and its St. Charles County outpost? Let's just say that drinking with bartenders is an intimidating prospect.
This Girl ventured forth one unseasonably warm October afternoon to the labyrinthine quarters of John D. McGurk's Irish Pub in Soulard to test the drink-slinging skills of the city's Ronald "Ronnie" Walters and McGurk's Public House-O'Fallon's Charles "Charlie" Myers. (Jim Halloran owns the Soulard original; his son Patrick owns the O'Fallon offspring.)
Click through to watch a video of Walters and Myers getting down and dirty with an Irish Car Bomb and then some...
This being one of the city's best-known Irish watering holes, the two prepared to do battle with a warm-up shot of Tullamore Dew Irish whiskey. Then they dove right into Round 1, featuring copious amounts of Guinness and Jameson.
John D. McGurk's Irish Pub 1200 Russell Boulevard; 314-776-8309
McGurk's Public House 108 South Main Street, O'Fallon; 636-978-9640
{If you know of a bartender who's deserving of a profile, e-mail tips@riverfronttimes.com}