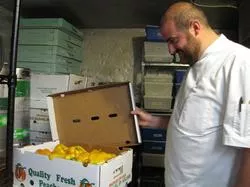 Robin Wheeler
Vito Racanelli Jr. of Onesto Pizza & Trattoria
Gut Check harvested a bumper crop of local food news this week. We reported on the
West End Wok
, a new eatery coming to the Central West End, compiled a list of links to all the
restaurant openings
being reported around town, and Ian also reported that
Harold McGee
is coming to town next month.
What else did we do this week?
Junk + Food channeled Liza with a 'Z' with Carondolet Bakery.

Fight Club Sandwich had a three way rumble over rarebit.

Happy Hour Handbook penciled in Tortillaria.

The 100 Favorites countdown continued with #47 at Flavors BBQ Sports Bar & Grill.

Thrill or Swill put a cheap pinot noir to the test.
That's it for this week. Have a great weekend. Eat something good.