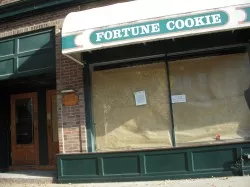 Fortune Cookie says: You will get a new Asian restaurant.
Jae Yoon, one of the restaurateurs behind the
Central West End's Chi
, plans to open a second Asian eatery in the same neighborhood.
Rather than a sushi-and-sake hotspot like Chi, however, the West End Wok will serve Chinese food, says Nick Georges, property manager for the new restaurant. He described the concept as casual, but with sit-down dining.

West End Wok is planned for 4577 Laclede, the site of the former Fortune Cookie Restaurant next to Rosie's Place. That's just east of Euclid Avenue -- and right across the street from one of St. Louis' most-anticipated restaurant moves, with Taste by Niche moving into the spot vacated by Moxy.


The site at 4577 Laclede has quietly been undergoing renovations for a few months, and records show that Yoon registered the name "West End Wok" with the Missouri Secretary of State in April.
Those records also show that Chi is owned by Jae K. Yoon and Jae H. Yoon, both of Fenton. The new venture will be owned by Jae H. Yoon and Nay Myo Paing of St. Louis.
Chi twice won honors for "Best Sushi" by the RFT; it also won "Best Happy Hour" in 2009.

Reached by phone yesterday, Yoon promised to call us back soon. We'll update this post if we hear back.