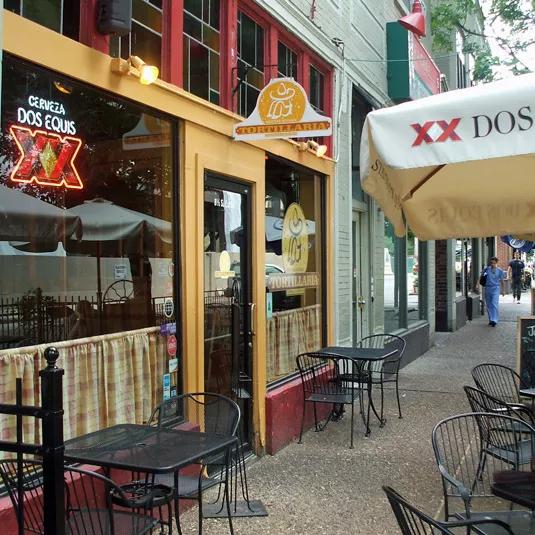 The Joint: Tortillaria 8-1/2 South Euclid Avenue; 314-361-4443
The Hours: Mon.-Fri. 4-6 p.m., Sat.-Sun. 3-5 p.m.
The Deal: $3 house margaritas, $15 pitchers, $2 domestic bottles, $3 imported, half-off chips and guacamole or queso blanco, select tacos $2-3.
Note the taco mention (just a piece of advice)...
The Scene: You can learn a lot about a Mexican restaurant by studying the complimentary chips and salsa they bring to the table. And while the corn chips at Tortillaria aren't anything to write home about, there are four salsas, available at a self-serve salsa bar.
The interior is outfitted with the wooden booths we've come to expect of Mexican restaurants north of the border, but the patio is quaint (albeit cramped), providing the perfect atmosphere for enjoying a happy hour. The sidewalk cuts right through the patio, so people-watching potential is ample, and there's always the smug satisfaction one enjoys when one sees passers-by shooting envious glances at your margarita.
Why You'll Go Back: The fish tacos. Period. They're made with fresh ingredients, and are the perfect foil for a marg, or, if you prefer, one of those $3 beers.
The Verdict: In the heart of the heart of the Central West End, Tortillaria's a must-try for discerning urbanites who appreciate their fish tacos and insist upon a precise calibration of the lime-to-tequila ratio in a margarita.