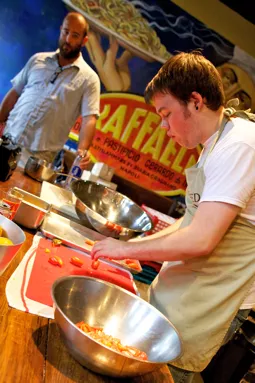 Stephen Barber
Entre:Underground chef John Perkins (left) and chef Efrain Cuevas of the Clandestino Chicago Supper Club
What did you do on your summer vacation?
Whatever it was, it probably wasn't as cool as what Eliza Flanagan and Stephen Barber did. The couple left their home in London, where Flanagan was general manager of Bistrotique, in search of underground American food and the people making it. They've chronicled their travels on the blog Fat Food Taxi.
Planning a road trip in unknown territory around food is only natural for Flanagan, whose mother, Zannie, is a food activist in Australia. And eating? "Well, that is how I choose to live, be it through travel, or at home. I think about lunch and dinner and try and fit everything else around those events. Really," the younger Flanangan writes via e-mail while en route from St. Louis to Austin, Texas.
Flanagan and Barber had planned to drive through the U.S. to Mexico and Central America with a side trip to Cuba, learning the local cooking methods along the way. "We got so excited about [the U.S.] section of the trip that we ditched the Mexican/Central America/Cuba section for another time and began researching only the American leg with a fury," Flanagan writes.
"Our actual route has changed a lot while we have been planning, but it's mostly been dictated by dinners or events that we wanted to experience."
One of the dinners they wanted to experience? An Entre: Underground meal in St. Louis.
"St. Louis is not on the typical tourist trail and that's of interest to us, but it's mostly because of Entre, and [chef] John [Perkins]'s dinners that we decided to visit."
How does a pair of traveling foodies in London learn about an underground dinner in Missouri? Internet, of course.
"I had already signed up for some interesting sites, such as Entre and other food blogs. I then spent many hours online, reading Chowhound, and reading links from sites that I liked," Flanagan explains. "I made various Google maps linking anything that I found of interest and then looked at the map and drew the tour route from that. There is something in every place we are going that is food-related and of interest. Without the Internet, none of this would be possible."
Flanagan and Barber attended Entre's August 13 dinner, which was the first collaboration between John Perkins and chef Efrain Cuevas of the Clandestino Chicago Supper Club.
"St Louis is all about the suburbs," writes Flanagan. "I am used to heading to the inner city to get to the action, but more and more in the U.S. I am noticing that the heart is on the periphery of the cities."
Not that St. Louis is unusual in this regard. Flanagan noted in a September 6 entry from Memphis, "Like a lot of the urban America that we've already passed through, you need to endure miles of strip malls before you get to the actual town centre. America doesn't go up...it goes wide."
Regarding St. Louis, she observes, "Without knowing someone, [good food locations] can go unnoticed from a tourist point of view. Foodwise we were blessed to have the guys of the supper club tell us where to go. We ate at Black Thorn Pizza, where I ate my first deep-pan, and we had great tacos on Cherokee Street, again suggested by John."
Not all of St. Louis' culinary offerings got high marks. Flanagan wasn't a fan of frozen custard and gave toasted ravioli a pass: "Everyone kept saying we had to eat fried ravioli, but I think that is shooting the city's culinary tradition in the toe."
As of late September, the pair was still wandering the states., eating by campfire in Virginia. They've logged over 8,000 miles through Virginia, the Carolinas, Tennessee, Louisiana, Mississippi, Georgia, Texas, Missouri, Arkansas, Illinois, Wisconsin, Michigan, New York and all points between, in search of -- what?
"Inspiration is what I am looking for. And a good story. We are both looking for a new way of living. Not necessarily in terms of location, but we are hoping to be inspired by people that are passionate and engaged in things that they love. I often find that food is more a passion than a job, and America is where a lot of new movements begin, so I hope to be moved. It seems to be working so far."