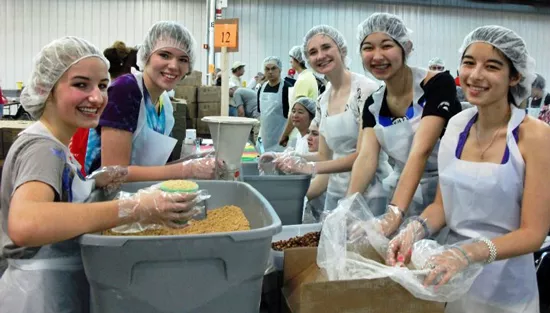 courtesy Danforth Center
Pack 'em up, ship 'em out: Donald Danforth Plant Science Center volunteers pack famine-fighting meals for shipment to nations in need.
When it comes to the juxtaposition of hunger in sub-Saharan Africa with the wealthier enclaves of any First World city, it seems like the solution should involve the tossing of copious amounts of cash at the problem.
But that's not what the Donald Danforth Plant Science Center and Plaza Frontenac are aiming to do this Saturday when they give shoppers and diners the opportunity to learn about the upcoming World Food Day (October 16) and participate in food-packaging demonstrations (held in the Center Court at 11:30 a.m., 12:15, 1:45 and 2:30 p.m.).
"An important objective of World Food Day is heightening public awareness of global hunger," says Karla R. Goldstein, vice president of public and government affairs for the Danforth Center. "A child dies every six seconds from malnutrition and related illnesses, according to reports by the World Health Organization. We appreciate Plaza Frontenac providing us with a venue in which to engage even more people in the dialogue, particularly in a community where many can afford to provide resources."
The event will feature Danforth Center volunteers and local celebrities (including the Post-Dispatch's Bill McClellan) packaging high-protein meals to be shipped to famine-stricken Tanzania. Each package contains portions for six children and is apportioned to not only feed, but reverse the starvation process: a rice base, six eleven-gram servings of soy protein, dehydrated vegetables and 21 essential vitamins and minerals.
Visitors can bring the world hunger discussion home with them after the event by purchasing one of the packets for $10 -- a donation that's enough to feed 30 children in Africa.
"Chefs will be preparing the food [from the packets] on-site and will provide suggestions for seasoning it both to reflect our region and tastes and elsewhere," Goldstein says. "Our partner, Outreach International, doesn't include seasonings because often when it is packaged, the destination has not yet been determined. Seasoning can be adjusted to local custom and diet."
The world food discussion continues at Plaza Frontenac with Peter Menzel's "What the World Eats" photo exhibition.
Along with educating, the center hopes to recruit volunteers for events scheduled during the weekend of World Food Day.
On October 15 and 16 they need 1,500 people to create food packets.
Oh, and they could use donations, too. The Plaza Frontenac event will feature an auction. Can't make it? Go to a Schnucks store from October 11-17 to make a donation at the check-out lane.
World Food Day Prelude Event Saturday, October 2, 11:30 a.m. Plaza Frontenac 1701 South Lindbergh Boulevard Frontenac
World Food Day Commemoration Friday, October 15, 9 a.m.-8 p.m. Saturday, October 16, 9 a.m.-6 p.m. Donald Danforth Plant Science Center 975 North Warson Road St. Louis, Missouri 63132