Welcome to Girl Walks into a Bar, a weekly Gut Check feature that spotlights local bars and bartenders. This week Alissa Nelson profiles Miso on Meramec bartender Mark Sandt. Below is a Q&A with Sandt, followed by a video of him mixing a Torched Cherry Limeade.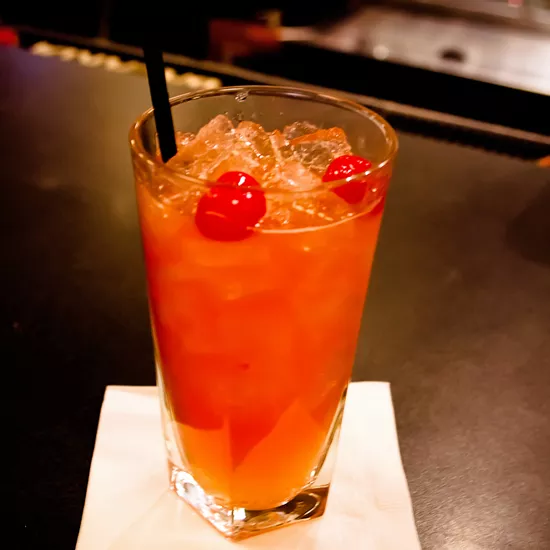 The thought of visiting a sushi restaurant for happy hour conjures images of room-temperature fish being scarfed down by recent business-school graduates drinking Bud Light and neon-colored "signature drinks."
What you wouldn't expect to find is a deft bartender -- some might say "salty"-- muddling fresh limes and exchanging jibes with his weekend trivia partner.
Mark Sandt could be considered a Clayton fixture, having spent the better part of the decade at Miso on Meramec following a seven-year stint at Cardwell's. In the words of one longtime patron, who'd moved away but periodically returned to St. Louis on business: "You're here every time I come in. Do you ever go home?"
Sandt's the sort of person who draws you in with his good-natured style. He's self-deprecating in a way that makes you understand that he has a quick wit and is more than willing to use it. It doesn't hurt that on this particular afternoon he's abetted by his good friend Dave Deming, uncle of Silver Ballroom bartender Justin Deming (featured in a previous column); the two trade zingers throughout the chat.
Click through for the Q&A and a video of Sandt mixing a Torched Cherry Limeade...
In three words, how would you describe your bartending style? Quiet, reserved and pantsless.
Favorite drink to drink? I like beer. Budweiser is my main staple. And shots of Jameson.
Favorite drink to make? You know, I like the old-school cocktails: old-fashioneds, manhattans, martinis. We started making mojitos, and I don't mind making those at all -- some bartenders get pissed. I started doing fresh-squeezed drinks -- margaritas and Long Island iced teas -- the old things but with a new twist, and I like it.
Drink you hate making? I really don't mind much.
[Deming: That's not what I wanted to hear. I wanted to bring in a group of people.
Sandt: I'm not giving you ammo like that.]
Favorite drink you created yourself? The Torched Cherry Limeade. I really like it. It's tasty, refreshing -- you can't taste the alcohol in it.
What's the worst drink you've ever had? Any Missouri wines.
Favorite nonalcoholic drink? Probably Mountain Dew. It can be a lifesaver at times.
Favorite drinking ritual? Saying goodnight to everyone as I do my first shot of Jameson, because I'm not going to remember anything else.
What do you drink when you're...On a plane? Depends on the destination. Like when I was going to Detroit I had a CC and ginger ale because I was going up north. I flew to Hawaii and they ran out of beer, so that was kind of rough, but I switched to rum-and-Cokes figuring beach drinks.
Is it always the same on the way back to St. Louis? Well I usually don't drink on the flight back, because I've had enough, thank you very much. My liver is atrophied to the size of a walnut.
...At a wedding? Beer.
At your parents' house? I don't drink at my parents'. We all drink, just not with each other. I think they're Baptists. Southern Baptists or Mormons, I'm not sure which.
...Trying to get drunk? Jameson.
Favorite canned beer? PBR sixteen-ounce.
Worst/best thing you've ever seen happen in your bar? The best was--
[Dave: You'll have to exclude me.]
--Well, present company excluded. The best was when Bubba met Karen -- friends of mine -- and he insists he never would have met her if I didn't work at Cardwells, and they've turned into great customers and good friends. He had just moved to St. Louis and said, 'I was out for a walk and walked by and I saw you in there talking to some people and thought, well that looks like a nice little place.' So he came in and he met his wife like two months later and the rest is history. The worst is projectile vomiting. We're doing a lot better with that now.
How do you keep yourself occupied on a slow night? Just talking to the customers and the staff. I get to watch a lot of sports. We show movies -- I've seen Dumb & Dumber so much that I can recite every line.
Who would you most like to have a drink with? Probably either Hemingway when he was young, or Hunter S. Thompson in the Fear and Loathing in Las Vegas era in the late '60s. Anybody who can write about ether binges is all right in my book.
Where are you most likely to be found when you're not in this bar? Lehmann's Landing. Trivia on Saturday nights has almost become a Rain Man-like mantra: Gotta go to Lehmann's, gotta go to Lehmann's. I've passed up good dinners because, "Nope, gotta go to Lehmann's." They're like, "Are you nuts? It's a $20 gift certificate!" It's not the money, it's the pride.
Best hangover cure? Probably a large glass of water and two oxycontins. Go to bed and wake up two days later. No, probably grease, starch and Gatorade.
Most unusual liquor you've ever seen? A friend of mine -- his wife is Vietnamese -- had something with a snake in it. He said it was like kerosene but with a snake in it. And they all laughed at him because he immediately began coughing.
If you could start a band, what kind of band would you start? Rick Astley cover band. He was a bartender -- not a lot of people know that.
Best/worst drinking holiday? Halloween would probably be my favorite. We have a big party down here and it's a lot of fun. I also like opening day of football, baseball, and hockey. I like Sundays. But we'll say Halloween. And the worst is always New Year's Eve. And I say that because I always celebrate by washing glasses at the stroke of midnight.
Biggest tab you've ever seen? About $1,500, and it was just three guys who had just closed on a big deal and they were buying Dom [Pérignon]. And buying Dom for the girls who kept encouraging them to buy Dom. The only reason their tab didn't go any higher was because we couldn't borrow from anybody else -- they'd run the city out of Dom.
Drunk food of choice? White Castle breakfast sandwiches. Sausage, egg, and cheese and tots.
Three adjectives that describe your bar: Interesting, dark and remote. There's no windows, if you're passing by, you can't look in.
[Deming: I would certainly add "entertaining" to that. The times I come by, I've thought, "I'll come by for a quick drink, listen to some quick wit and then move on."]
My bar is the only bar in St. Louis where... You're totally safe in case of inclement weather. If there's a tornado, you're already in the basement. All's you need is a knife or a bottle opener and you could live here for days.
Miso on Meramec 16 North Meramec Avenue Clayton 314-863-7888