Gut Check's Week in Tweets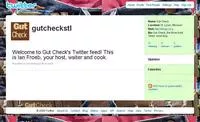 Don't you know? Gut Check has a Twitter account. You can follow us
@gutcheckstl
.

Here's some of what you missed on the Twitter feed this week:
Medical Marijuana Users Get Ice Cream http://bit.ly/axsPpe
RT @stlmag_relish: Primebar in Des Peres closes: http://bit.ly/9obyrb
Favorite Dish #52 is ready to go...but we are having some blog-software issues.
Speaking of 100 Faves, trying to finalize the remaining half. Difficult. Some good stuff not gonna make it.
RT @rftmusic: Interview: Corle 2 Da on Being "So St. Louis" -- And Giving Props to Other Anthems with Lou pride... http://bit.ly/a25GUt